Why Read This Report
ZINFI earned scores of 4.22 (out of a possible 5.0) and 4.2 in Forrester Wave categories of "Current Offering" and "Strategy," respectively, and 13 scores of 5.0 for Forrester Wave specific evaluation criteria.
ZINFI's PRM solution provides robust global capabilities with excellent functionality, flexibility through a modular approach, and infinite customizations for complex channel environments. Paired with strong PRM functionality, concierge services, and sales enablement, the company was one of the first to envision unified channel management. It's also put significant work into improving UI/UX, deal registration, MDF management, and business intelligence features in the past few years. The company is actively looking to make additional sales and marketing investments to enter other industries and market segments that it hasn't focused on before.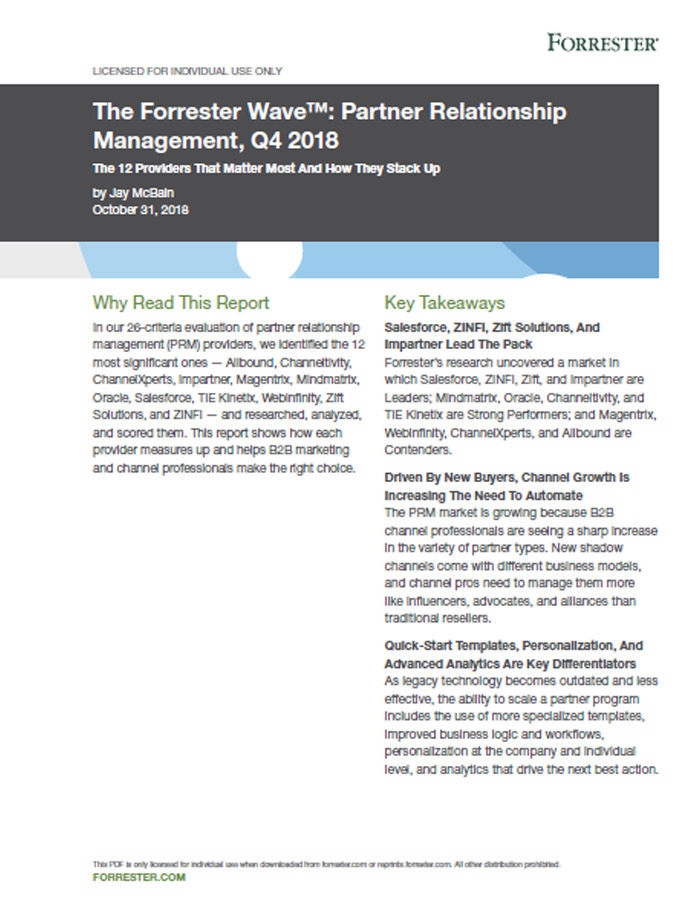 ZINFI is a good fit for technology and manufacturing customers looking for a unified channel platform to handle complex workflows and requiring flexibility to fit emerging channel programs
Thank you for your interest in reading the The Forrester Wave™: Partner Relationship Management, Q2 2018. To download a copy of this report, please contact Forrester directly – or visit their website to gain access to this report. Alternatively, please read our press release here.
Download Best Practices Guidebook