ZINFI Hosts Channel Marketing Concierge Best Practices Webinar with Guest Speaker from SiriusDecisions
Attendees Will Learn How to Leverage Concierge Services to Increase Partner Engagement, Adoption and ROI
Singapore — June 06, 2018 — ZINFI Technologies, Inc., a company leading the definition and creation of Unified Channel Management (UCM) solutions, and special guest SiriusDecisions, Inc., the leading global business-to-business (B2B) research and advisory firm, today announced they will offer a free webinar entitled "Channel Marketing Concierge Services: Deployment Best Practices," to be held Wednesday, June 20th, 2018, from 2:00 pm to 3:00 pm SGT.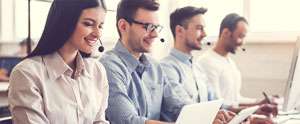 Channel marketing concierge services can make a dramatic difference in the success of partner programs. This webinar will focus on best practices for engaging and deploying concierge services to generate more productive activity among partner organizations. Speakers will provide examples of how a channel marketing concierge team can increase partner adoption, participation and engagement in programs, and help partners with execution of campaigns and events. The speakers will also explain how to use concierge services proactively to reach out to partners and help them learn to develop new opportunities on their own.
ZINFI webinar speakers include:
Sam Ganguly, Business Development Leader at ZINFI, who will provide a brief introduction
Angela Leech, Research Director, SiriusDecisions, who will present "Channel Marketing Concierge Services"
Patrick Singh, ZINFI's Director of Business Development for APJ, who will speak on "Concierge Services Deployment Models"; Singh will also host a Q&A session at the end of the webinar
"Many partners lack the requisite skills and resources to consistently plan and successfully execute programs on their own," said Sugata Sanyal, founder and CEO of ZINFI. "Concierge services can be very powerful in helping partners run effective demand generation programs and drive better results across the channel. Marketing professionals who attend this webinar will come away with a wealth of knowledge about channel marketing concierge services and how to make the most effective use of them. The content of the webinar is based on ZINFI's years of experience helping Fortune 500 companies optimize channel performance through automation and targeted services, as well as extensive research conducted by SiriusDecisions' talented analysts."
ZINFI was recently named a leader in The Forrester WaveTM: Through-Channel Marketing Automation, Q2 2018. The Forrester report notes that "ZINFI's solution provides robust functionality, modularity, and customizations and is supported by localized concierge services in 14 countries… The solution comes with a wide set of integrated marketing tools such as search, social, syndication, email, event, and microsites that can be put together in a single- or multi-touch campaign. The solution has strong cross-functionality, including the asset eStore, integrated MDF/co-op management, adaptive reporting and business intelligence." The report concludes, "… ZINFI could be a formidable player in multiple industries and segments around the world."
For more information about ZINFI's Unified Channel Management platform or to download a copy of ZINFI's best practices guides on Unified Channel Management, please visit our website at www.zinfi.com. You can also follow ZINFI Technologies on LinkedIn and at the ZINFI Channel Marketing Best Practices blog.
To sign up for the latest newsletter distribution, visit https://www.zinfi.com/contact-us/
Media contact:
Melissa McNeil,
[email protected]