Asset management is a business process for organizing, storing and retrieving rich media and managing digital media assets including images, documents, zipped archives and other graphical content. Assets are stored in digital format with accompanying metadata. At the most basic level, your assets are a set of graphical records, and each record contains metadata providing the name of the record, its format, and detailed information about its content and usage.
ZINFI's Assets Management module helps you manage your entire asset infrastructure. You can create an archive, preserve and manage digital assets, share digital assets with partners, and make assets searchable so you and your partners can easily identify, locate and retrieve the assets you need.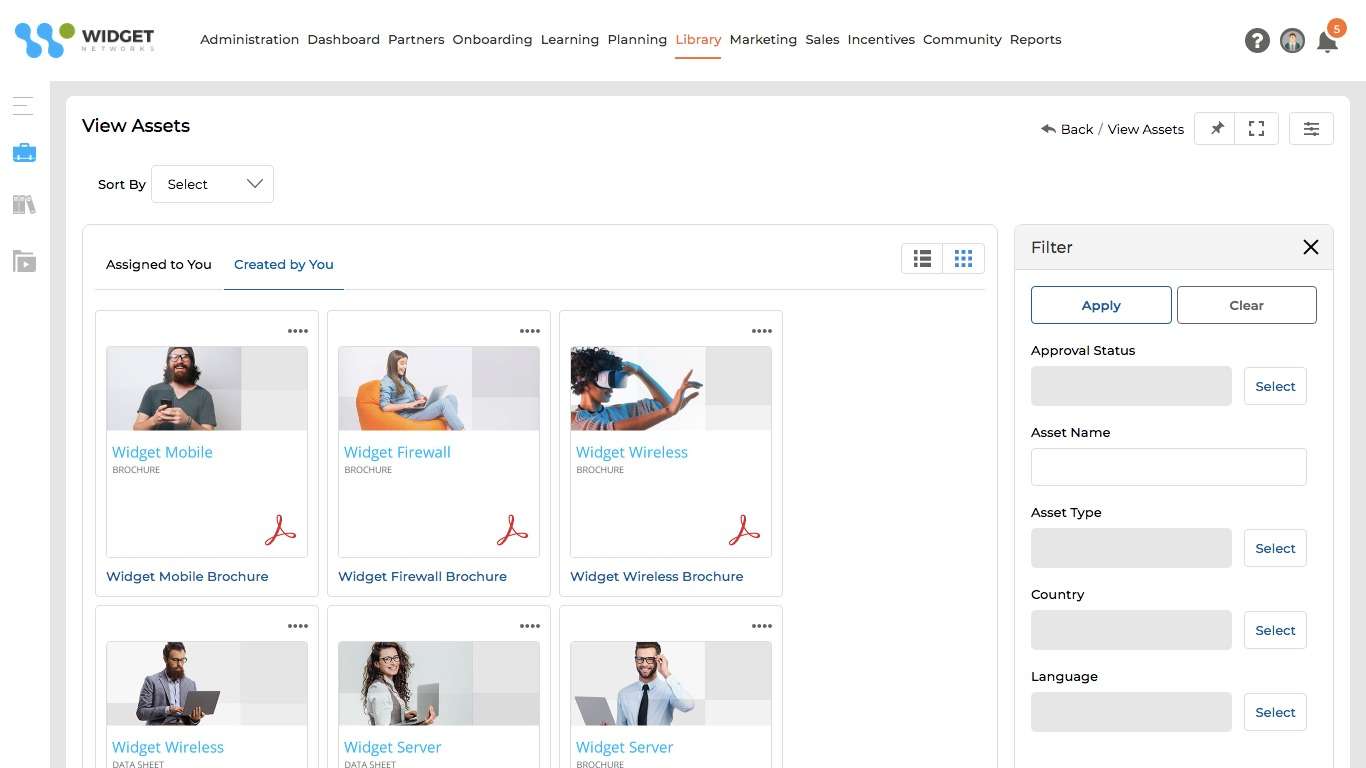 Asset Management
ZINFI's Co-branded Assets Management module allows you to upload and manage assets in various formats like HTML, HTML5 and PDF and make them available for your partners and sales teams to co-brand and market to end-users.
The status of individual assets can easily be managed and monitored by your organization with the module's publish and expiration date functionality. Multilingual capabilities included with the module enable your organization to efficiently manage assets globally across your channel network, allowing your country teams, for example, to benefit from localized content upload and management capabilities.
Key Features Include:
Support for upload of widely used file types for assets
Support for Partner Co-Brand
Multi-Lingual capabilities for localized content
Asset Metadata Management
With ZINFI's Asset Management module, your organization can easily manage asset schema in impressive detail. We offer a complete, end-to-end process and governance framework for asset creation, control, enhancement, attribution definition and management within a repository, allowing granular visibility.
You can configure metadata for every asset uploaded in the partner portal using more than 20 distinct metadata parameters. This allows for more effective categorization and organization of assets and makes it easy for users to search for and quickly find the specific assets they need.
Key Features Include:
Complete asset governance by OEMs
Print-quality assets
Asset metadata management
Asset Management Reports
During the day, or at the end of the day, you may want to retrieve asset management information to monitor asset-related operations and activities. You can generate this information in the form of reports through UCM's business intelligence reporting tools.
Asset management reports can be automatically generated through an asset management process or in response to an ad hoc request for asset information. Processes and reports can be produced as part of scheduled batch activities or as one-time requests, all of which are handled through the process scheduler. You can generate reports for every asset, accessing data about the various events in the life of a specific contract, for example, or across multiple contracts at any specific point in time.
Key Features Include:
Asset usage reports
Contract-based asset reports
Time-based asset reports