Portal Content Management
FluidCMS™ enables your organization to set up portal pages using a site map structure, and then begin adding pages and content. This module comes with the dynamic web page and content management capabilities. Users can manage their content and arrange elements with just a click of the mouse, dragging and dropping objects. Drag-and-drop all types of Basic Block content: images, text fields (Powered with Google Web Fonts), videos, buttons, button groups, dividers, and additional Built-in Block Elements viz. Tabs, Banners, Dual Banners, CTA Sections, Logo Gallery, Slider, Accordion, Timeline, FAQ, Popup, Tooltip, and more. Edit via Custom Code Editor and control access at an elemental level using Group Assignment functionality and manage Page visibility by channel partners across the globe.
FluidCMS comes loaded with a one-stop solution – Portal Identity feature to brand your UCM instance, Customize H™L Footers and Login Screens with organizational hyperlinked logos and branding colour profiles to suit your organization's ergonomics. Apply Tooltips to Sections, Field Labels, and Action Buttons. This makes it easy for your organization to set up the UCM instance using your logos and colour profiles to set up customized themes for the Portal. Revolutionary Menu Management and Menu Access Management operate seamlessly in tandem to provide a simplified UI/UX to manage menus and control their access to User Groups and Profiles.
Key Features Include:
Multilingual Page Content Management
Portal Page Setup, Versioning and Archival
Page Edit, Timely Publish & Management
Menu Management with Drop Down Menus
Drag-and-Drop Approach
Dynamic Form Builder
FluidCMS™ helps you to configure and integrate Dynamic Forms with Marketing tactics to capture information for any specific module of UCM. They can be integrated to customized Campaign Pages and executed to the end- user. The Dynamic Form helps you to reach out to Prospects and capture valuable information through the Form directly – syncing the record(s)/information to the specific UCM module.
FluidCMS™ features a widget library full of text fields, galleries, video, maps and more to enhance the Dynamic Form to suit your needs. Hosting of Dynamic Forms to Pages of a Marketing tactic viz. Microsites, Email, etc. can be easily accomplished, by simply Drag-Dropping the Dynamic Form to the existing Page. Design of the Page – Static/Dynamic, can be updated through FluidCMS™ – WYSIWYG CMS Editor and Externally-Accessible Page Links can be generated, allowing OEMs and Partners to publish the Page on their custom Portals and capture records automatically from end-users. Enhance your Partner and Customer experience through FluidCMS™s multi- lingual, visually appealing, module-specific, multi-tactic based Dynamic Forms and engage them without requiring them to log into UCM.
Key Features Include:
Content Branding with Bootstrap
Module specific Dynamic Forms
Capture Information and Share Assets
External Page-Link Generation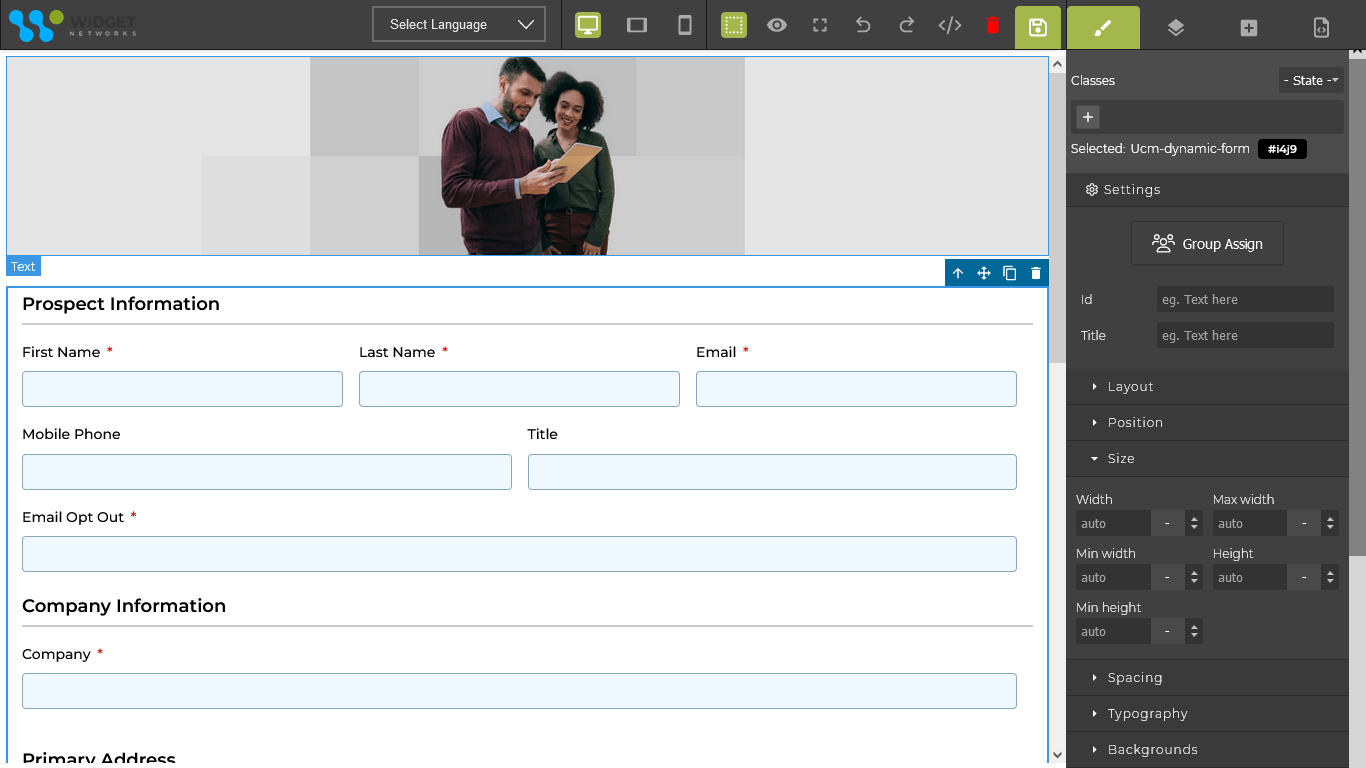 Base Currency and T&C Page Management
Base Currency can be configured and activated either by a) Adding a New Currency and enabling it as a Base Currency or b) Editing an existing currency and converting it to a Base Currency. The conversion Rate for the other currencies relative to the base currency is set manually when a new currency is added and set as a base currency.
UCM Portal Admins can easily manage the content and activation of the Terms and Conditions Page which is normally utilized for UCM Users to Accept and Acknowledge prior to using the UCM Platform, as part of compliance rules and regulations for the Organization. The Terms and Conditions are created based on specific Languages and Groups. The Terms and Conditions Page – Activated is visible when the user (allocated with the specific Group and Language) logs in to the system for the first time. If the Language and Group associated with any specific Terms and Conditions do not match with that of the user, the one that is created as default is visible.
Key Features Include:
Configuration and Activation of Base Currency
T&C Page Management
T&C Visibility Configuration
Default T&C Activation