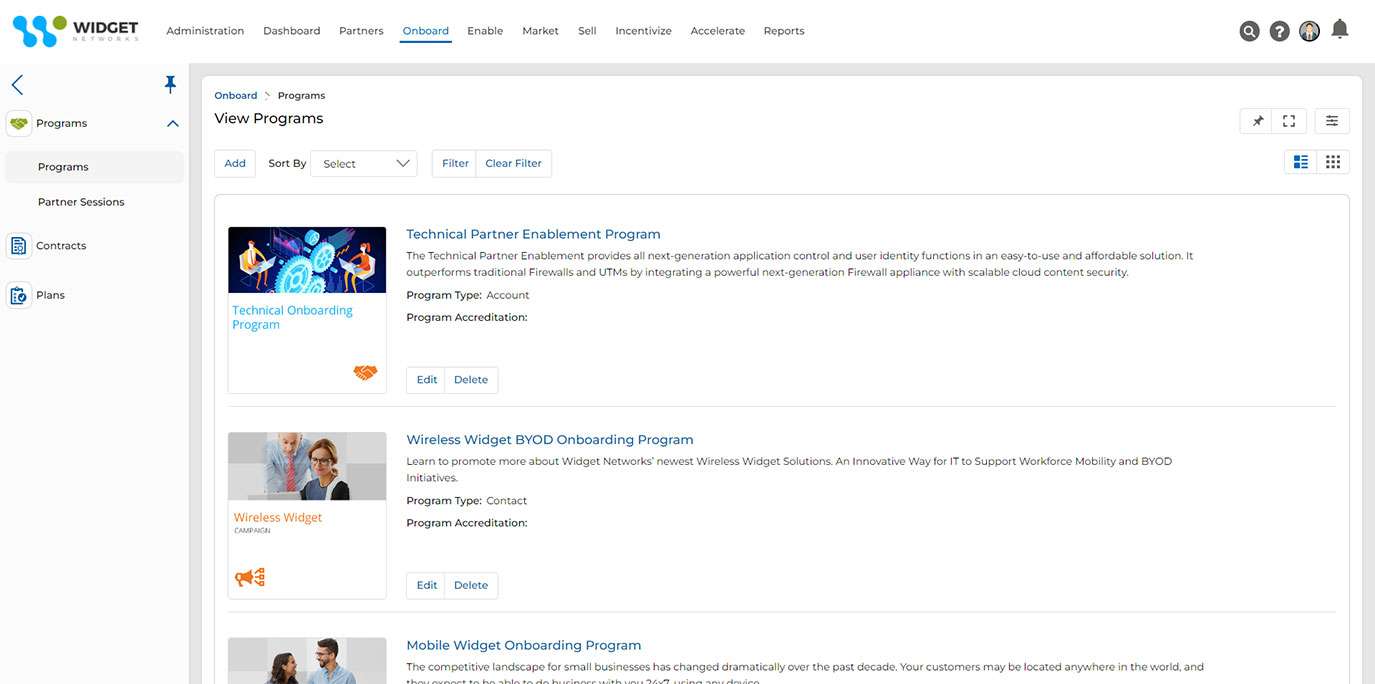 Partner Onboarding and Enablement Flow
The Partner Programs Management application gives your organization a hawk's eye view and complete control over the new and existing partner engagement cycle. Partner Programs can be configured for the Partner Account or individual Contacts via Program Type and via Accreditation Type – Programs can be created for existing or ready-to-be onboarded Partners. Partner Programs comprising priority-based Program Levels are further segregated into Program Level Tasks inclusive of Task Requirements -with defined activities to be performed by your Partners to complete the Partner Program successfully. Through the Programs process, Channel Partners can review and track the completed and still-outstanding Programs, Program Levels, and Level Tasks, helping them monitor their engagement process.
Promote your Partners to upgraded Partner Groups and Profiles with eligible Benefits, Badges, and certificates associated with completing Programs. Automate your Partners' progress through hierarchical Program Levels, review completed Program Level Tasks, and override completion status.
Key Features Include:
Partner Program Flow Configuration
Auto Assignment of Programs to Partners
Program Level Advancement
Provision Benefits, Groups & Profiles, Badges, and certificates
Partner Setup and Tracking
Using Partner Programs Management, your organization can manage partner portal access for newly onboarded and existing channel partners so that partners can view and access the Portal as configured for them. Admins can easily track assigned Partner Programs via Partner Program Sessions with the related list upgraded to display Username, Last Session Activity Date, and Status and Completion Status. Similarly, Partners can utilize the View My Programs details page to view the Progress Donut Graph to keep track of his/her progress.
With Partner Programs setup management features, once channel partners sign contracts, they can be provided access to various partner training materials and UPM Applications based on the Partner Group Auto-assignment as per the Partner Program Configuration. Channel partners receive automated system notifications for each activity performed during this phase, keeping them posted on the progress they have made.
Key Features Include:
Contract Sign-up & Management
Program Sessions Management
Partner Profile Configuration
Training Assets/Program Management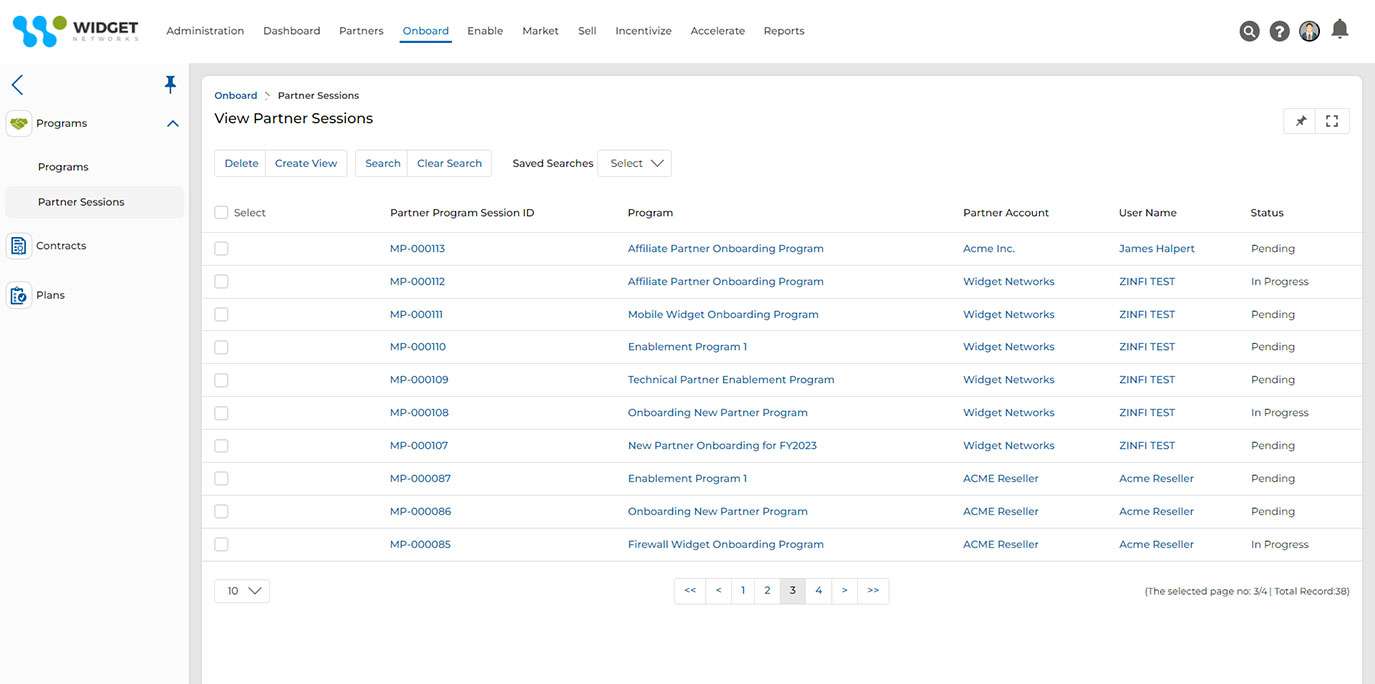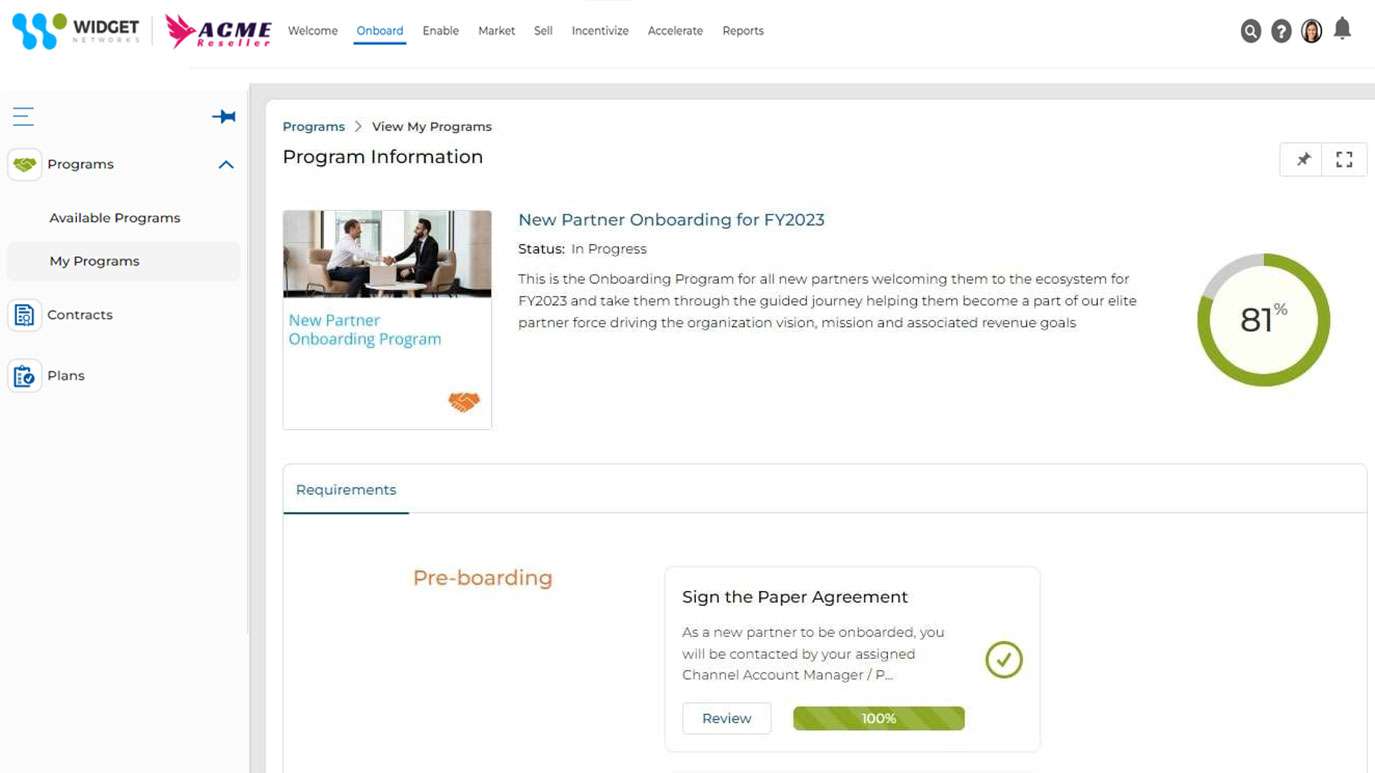 Program Levels and Tasks Management
Partner Program Management of ZINFI's Unified Partner Management (UPM) platform makes it easy for your organization to automate the partner recruitment/onboarding/enablement process through a series of step-by-step activities. Partner Programs Management helps you configure program levels and task requirements for Partners assigned based on partner type, profile, level of engagement, and other variables.
Partner Program Management gives your organization a detailed view of and complete control over the partner engagement cycle. Dashboard-based Program management helps you quickly track and manage channel partners in your existing channel ecosystem.
Key Features Include:
Manage Program Levels and Tracks
Auto-assign and Upgrade Partners via Programs
Channel Ecosystem for your Partners