Why Read This Report
Forrester's 24-criteria evaluation of through-channel marketing automation (TCMA) platforms identifies the 13 most significant vendors in the marketplace and researches, analyzes and scores them.
The Forrester Wave TCMA report notes that "ZINFI's portfolio offers a wide set of integrated marketing tools such as search, social, syndication, email, event, and microsites that can work together in a single or various multitouch campaign. But what sets ZINFI apart is its commitment to modularity, which makes it equally appropriate for a small to medium-size business (SMB) that is automating its channel management for the first time or a large global manufacturer that is filling gaps or transforming its channel technology. User references cited the company's flexibility and responsiveness to their unique requirements as a "differencemaker." ZINFI's focus on the tech and manufacturing segments has yielded a robust the Forrester Wave TCMA software platform, but that narrow focus (along with less investment in sales and marketing) has limited its growth."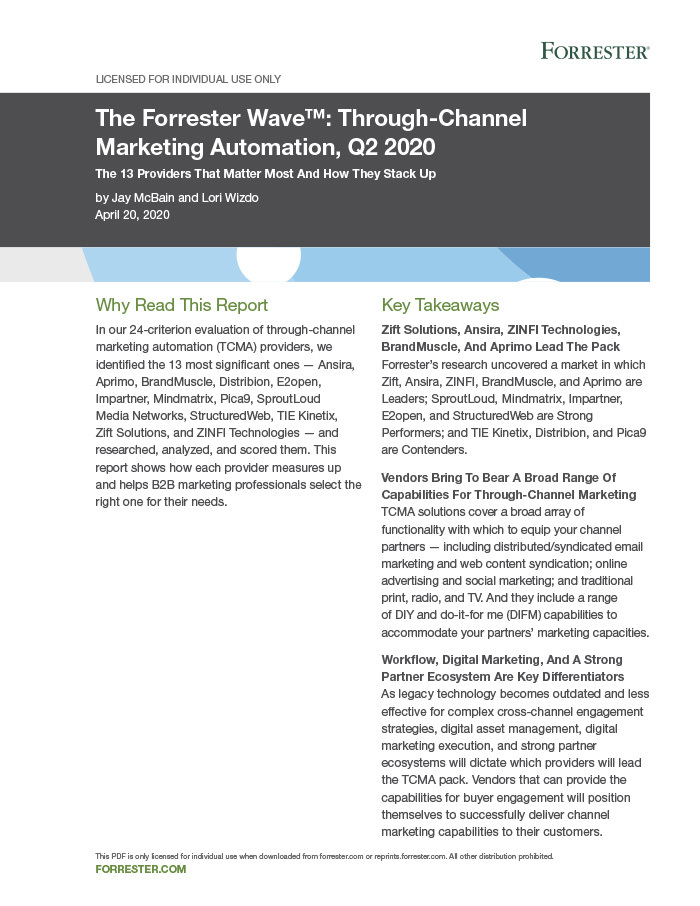 ZINFI recognized for its modular approach to the channel marketing ecosystem, its advanced workflow and collaboration tools, and its multi-lingual partner marketing concierge services
Thank you for your interest in reading The Forrester Wave™: Through-Channel Marketing Automation, Q2 2020. To download a copy of this report, please contact Forrester directly – or visit their website to gain access to this report. Alternatively, please read our press release here.
Download Best Practices Guidebook