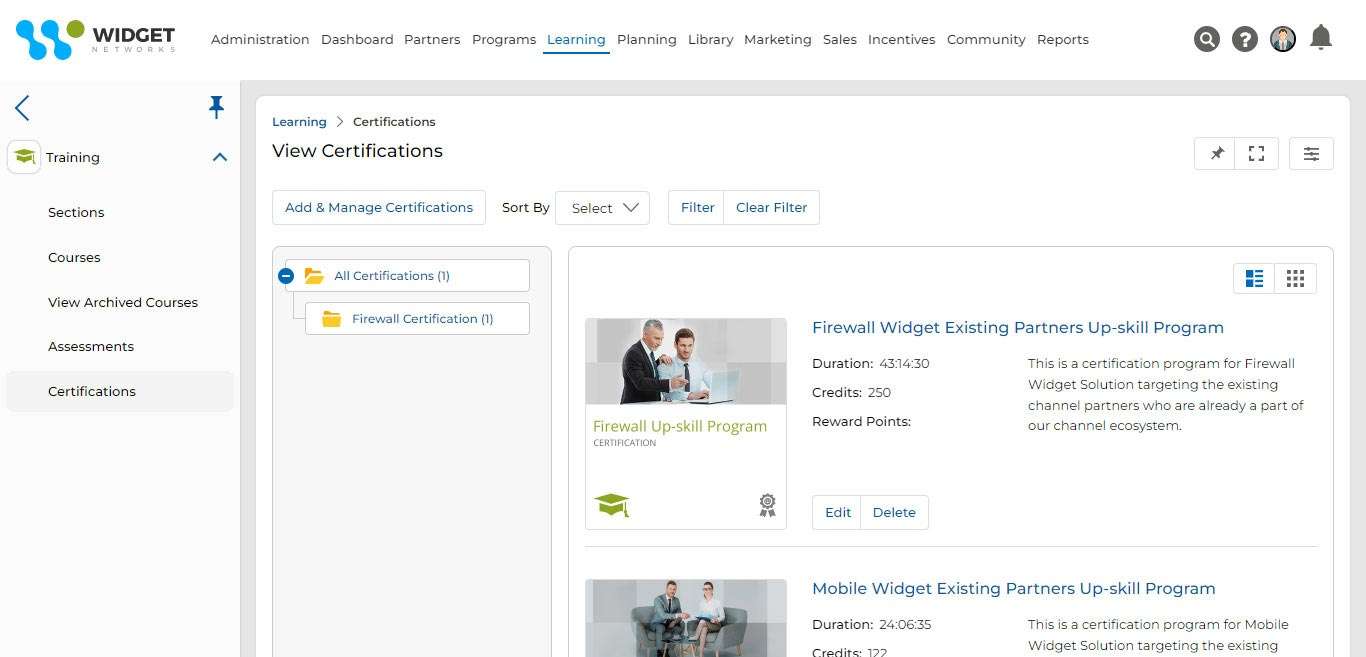 Certifications Management
The Partner Learning Management Plus (LMS+) module has been designed to make it fast and easy for organizations to set up a variety of certification programs via Categories for channel sales, marketing and technical teams in a diverse channel environment. You can leverage existing SCORM, xAPI, cmi5 and AICC compliant courses and assessments or custom-develop your own. The module also allows you to manage the visibility of certification programs so you can assign programs to specific groups of partners based on their competency level. Courses may be grouped and ordered to provide learners with a guided sequence through multiple courses, and the module can be configured to automatically issue certifications upon completion of coursework.
The certifications management component of our LMS+ module includes multilingual functionality. This makes it possible for you to upload localized certification programs to the appropriate non-English-speaking channel sales, marketing and technical teams so they can get certified with minimal hassle.
Key Features Include:
Certification validity management
Certification Category Tree
Client-agnostic certifications
Compliant packaged content
Courses and Materials Management
With ZINFI's advanced Partner Learning Management Plus (LMS+) module, your organization can configure and associate multiple courses with a specific certification program to simplify participation for channel sales, marketing and technical teams. You can manage custom sections and course materials by uploading single-context materials/ content and tracking assessments.
The LMS+ module features easy interoperability with all SCORM, xAPI, AICC and cmi5 learning content and course libraries. Create multiple courses directly from your existing standards-compliant materials, then use ZINFI's LMS+ module to automatically execute them with supported learner tracking and reporting capabilities.
Courses can be set up with specific publish date and expiration date functionality to simplify the process of managing the course validity. Individual participants also have access to their own dashboards so they can keep track of their performance and stay engaged in the process.
Key Features Include:
Course setup and management
Course Category Tree
Tracking of Partner enrolled Courses
Video Completion Tracking
Assessments Management
ZINFI's Partner Learning Management System Plus (LMS+) module allows your organization to set up a variety of custom assessments in the partner portal with tasks and assignments. Learners are automatically assessed and receive ratings or grades based on their performance. These metrics become part of the learner's record and can be shared across multiple learning activities.
Your organization can use the module to associate various assessments with multiple courses. Our assessments management tools include functionality for tracking individual progress and for managing the visibility of assessments via password protection. The multilingual functionality of the LMS+ module makes it easy for you to set up assessments for channel partners across the globe in their local languages, and you and your country teams will be able to track the progress made by partners—regardless of language or geographical location— under one roof.
Key Features Include:
Assessment setup and Management
Multilingual
Track and learn functionality
Data portability