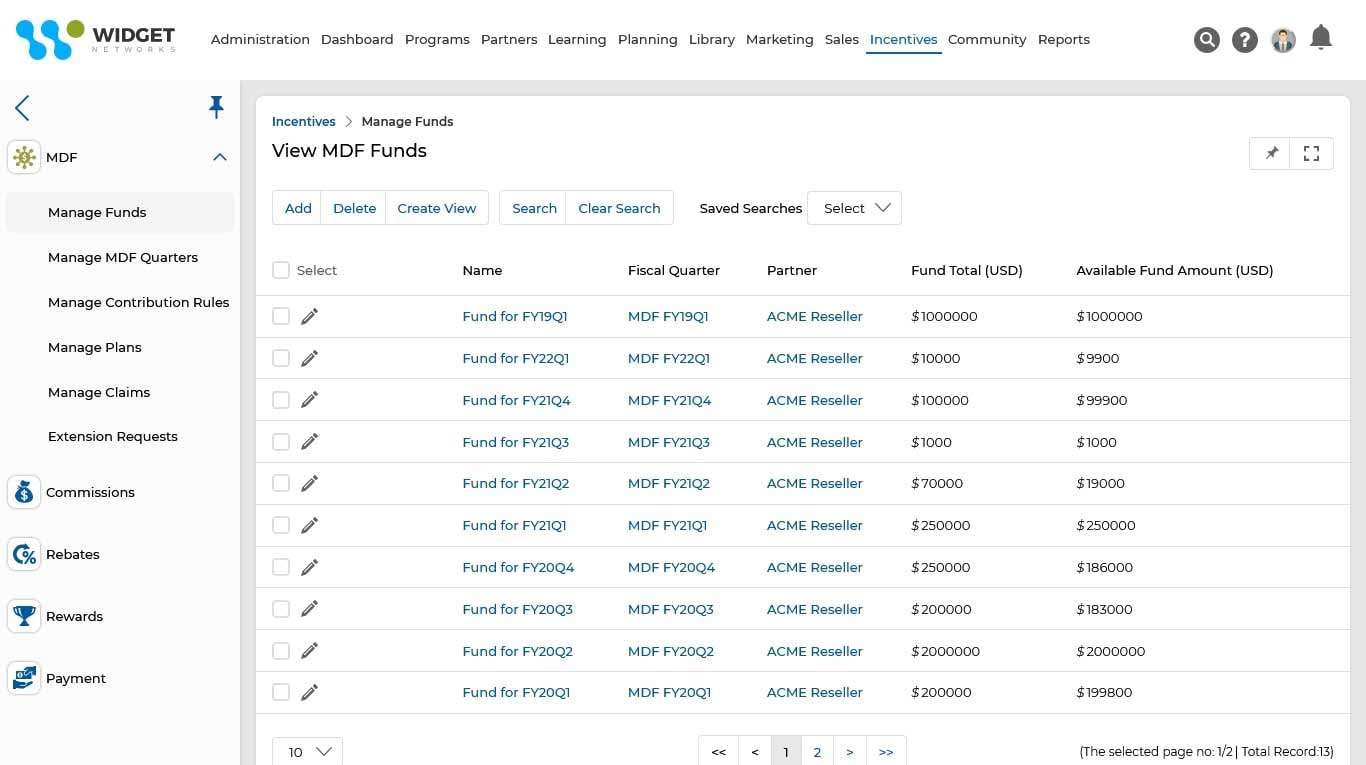 Fund Upload Management
Our Market Development Funds Management module allows your organization to upload allocated MDF or
co-op funds for channel partners in their local currency, reducing the complexity that can arise from managing programs across a geographically diverse channel. You can also use the module to automate conversion of local currency based on current exchange rates.
Your organization can use the Market Development Funds Management module to define a funding plan and schedule claim submission deadlines. Automation helps prevent partners from submitting inaccurate or late applications. The module allows you to configure automated system alerts to notify partners when you've uploaded program details and submission deadlines.
Key Features Include:
Fund upload management (in local currency)
Submission deadline management
Exchange rate management
System alerts
Plan & Claim Management
The Market Development Funds Management module provides your organization with end-to-end automation of
the plan and claim submission process as well as the review and approval process, thereby enhancing the
partner experience. Channel partners can submit POEs within the module for efficient claim review and
approval by the vendor.
Each submitted plan is tagged with a dedicated partner account manager so your organization can ensure
that channel partners have all the assistance they need to execute activities within the designated
timeline. Unique nomenclature for plan and claim IDs makes it easier for users to quickly determine the
number of log entries they need to complete for each activity.
Key Features Include:
Business plan and claim submission
Business plan and claim review and approval
Proof of performance submission
Attach comments/notes when rejecting an MDF plan
Deadline Extension Management
With the Market Development Funds Management module, your organization can efficiently manage deadline extensions for all plans and claims submissions. The module provides a process for channel partners to submit deadline extension requests to the vendor in case unforeseen circumstances will cause them to miss the original deadline.
The module provides end-to-end automated functionality for deadline extension, and you can configure it with a multi-level approval process according to your unique business requirements. This enables you to maintain complete control over the process and ensure timely submission of plans and claims.
Key Features Include:
Submission deadline extension request management
Multi-level approval process