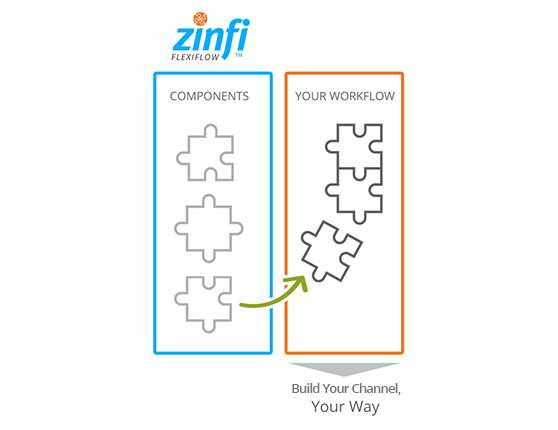 FlexiFlow™ Process Automation
Create sophisticated, targeted flows without the headaches, and give every contact in your database the attention they deserve. The FlexiFlow™ visual editor makes it easy to envision workflows in real time—while building simple or complex follow-up workflows. Use advanced segmentation logic to determine exactly who gets enrolled in your organization workflows and when. Create Custom or Associate Modules with custom fields viz. Text Box, Dropdown List, Date, Formula and Auto-number Fields, etc. Implement custom Regular Expressions, Unique Field Values, Record Type based Page Layouts, Filtered Related Lists/Lookups and configure Record Level Validation. Bulk Import Dropdown Field Values for Dropdown List and Multi Select Dropdown List Fields, Define Sort Order for selected values in a Multi Select Dropdown Field, Manage Page Layouts/Sections/Related Lists via drag-drop and Configure Sort Order(s) for List Pages and Card Layout Pages.
The FlexiFlow™ engine automates the regular and repetitive tasks of a business process, allowing your organization to define workflows without any code changes, thus saving both time and money. The FlexiFlow™ engine also helps you to improve the stability of the platform—again, with no code changes required.
Key Features Include:
Define workflows for MDF, lead management, campaigns, deal reg., etc.
Automated Emails and Record Assignment based on defined conditions
Option to define Default value of a Field and Dropdown values Sort Order Configuration
Automatic Record value update based on user provided criteria
Dynamic Form Builder
The latest upgradation to the FlexiFlow™ module, features creation of Dynamic Forms to input values and create module-specific Records, captured via the Dynamic Form created specifically for that specific module. For example, the Dynamic Form which the user will create for the Prospects module, will upload Prospect detail information to the Prospects Module.
Dynamic Forms can be further integrated with Marketing tactics – customized Campaign Pages and executed to the end-user. The Dynamic Form will help you to reach out to Prospects and capture valuable information through the Form directly – syncing the record(s)/information to the specific UCM module.
Key Features Include:
Module specific Dynamic Forms
Selective UCM Module Fields
Auto-Sync Information to Modules
Downloadable Assets Configuration