ZINFI's Unified Channel Management (UCM) platform comes with a dynamic configuration tool (workflow management), FlexiFlow™, that facilitates the design, configuration and automation of various business processes. FlexiFlowTM guides you and your partners through a step-by-step process for developing automated business and campaign workflows. With FlexiFlowTM, your teams can easily grasp how channel programs and campaigns are executed from start to finish. The tool establishes a logical, iterative design process in which every part of a business flow is tested before it goes into production. No more laborious coding—just use FlexiFlowTM to drag, drop and build.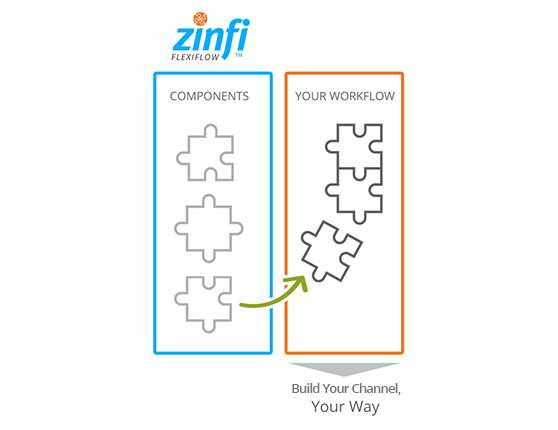 FlexiFlow™ Process Automation
Create sophisticated, targeted flows without the headaches, and give every contact in your database the attention they deserve. The FlexiFlowTM workflow management visual editor makes it easy for you to envision workflows in real time while building simple or complex follow-up flows. Use advanced segmentation logic to determine exactly who gets enrolled in your organization workflows and when.
The FlexiFlowTM engine automates the regular and repetitive tasks of any business process, allowing your organization to define workflows without any code changes, thus saving both time and money. The FlexiFlowTM engine also helps you improve the stability of the platform—again, with no code changes required.
Key Features Include:
Automated emails based on defined conditions
Automated task creation and assignment to users
Automatic value update in the database based on user-provided criteria
Defined workflows for MDF, lead management, campaigns, deal registration and more
FlexiFlow™ Campaign Management
With ZINFI's FlexiFlowTM, your channel management organization can quickly create and manage campaigns with a combination of easily configurable elements. Define actions for every record in the platform using our Program Step management tools. Use Decision Rule to define a process for records to flow through.
FlexiFlow's Wait Step features allow your organization to define a wait process across all or selected steps. With Switch Step, you can define a process that permits users to easily switch between different existing flows in the platform.
Key Features Include:
Program step management
Decision rule management
Wait step management
Switch step management