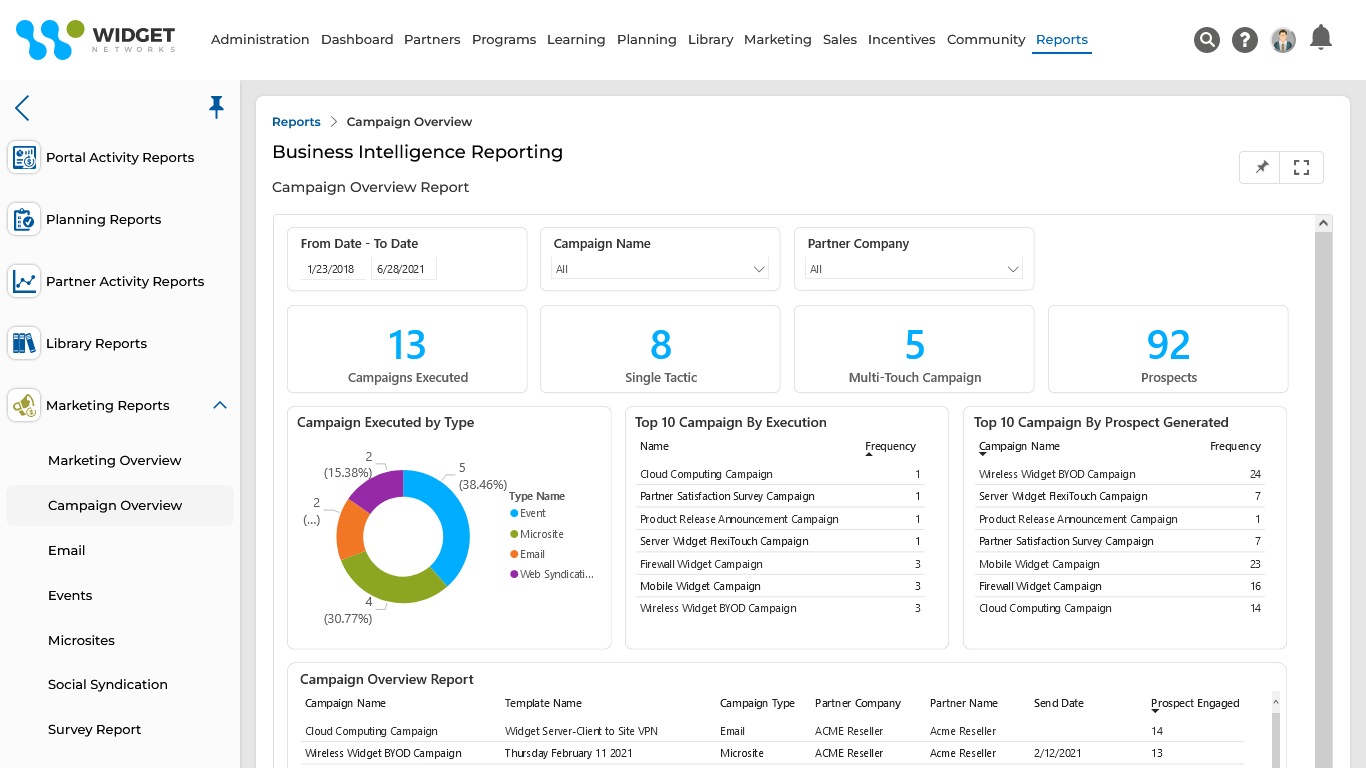 Business Intelligence Reports
The Business Intelligence Reports module updated extensively with the integration of Microsoft Power BI Report Engine provides channel marketing admins and users to generate extensive reports to measure performance across the channel. MS Power BI Integration delivers enhanced business intelligence data visualization letting users exhaustively monitor channel performance and analy ze business process and policies. The module provides insights to a more detailed and nuanced understanding of what is working and what needs improvement in the global and local channel performance and programs.
This module enables generation and access to default reports, build custom reports and add personalized reporting components to the dashboard, perform real-time monitoring of performance and determine what needs changing. Our correlation engine powered with MS Power BI helps channel managers understand the complex factors involved as specific performance metrics rise or fall.
Key Features Include:
MS Power BI Default Reports
Configure and Customize Power BI Reports
Custom dashboards
Data Model Visualizer
Contract & Plans Management Report
ZINFI's Business Intelligence Reports module allows your organization to keep close tabs on your progress on contracts and on adherence to the business plans signed by participating channel partners.
Business Intelligence Reports are a great tool for understanding the details of the partner engagement process throughout the entire engagement cycle. Vendors can use reports to quickly identify partners who are struggling to deliver, and then provide them with real-time assistance or targeted guidance before it's too late.
Key Features Include:
Dashboard reports
Detail reports
Summary reports
Content Library and Assets Report
ZINFI's Content Library Reports provides insights on specific content-based file types downloaded and viewed to keep a close tab on the specific contents which is attracting a wider audience and contents which needs to be updated to attract a premier viewership among partners and users.
Assets Reports are a great tool for understanding co-brandable and downloadable assets dynamics – through the detailed view providing frequency of used co-brandable assets through respective campaigns, and easily track the download status of assets by Partners and Leads. Vendors can utilize these reports to quickly identify the frequency of download of assets which are delivering the intended business requirement through respective Campaigns and leverage the remaining ones.
Key Features Include:
Assets – Download Tracking
Content Type Tracking
Assets Utilization Dynamics