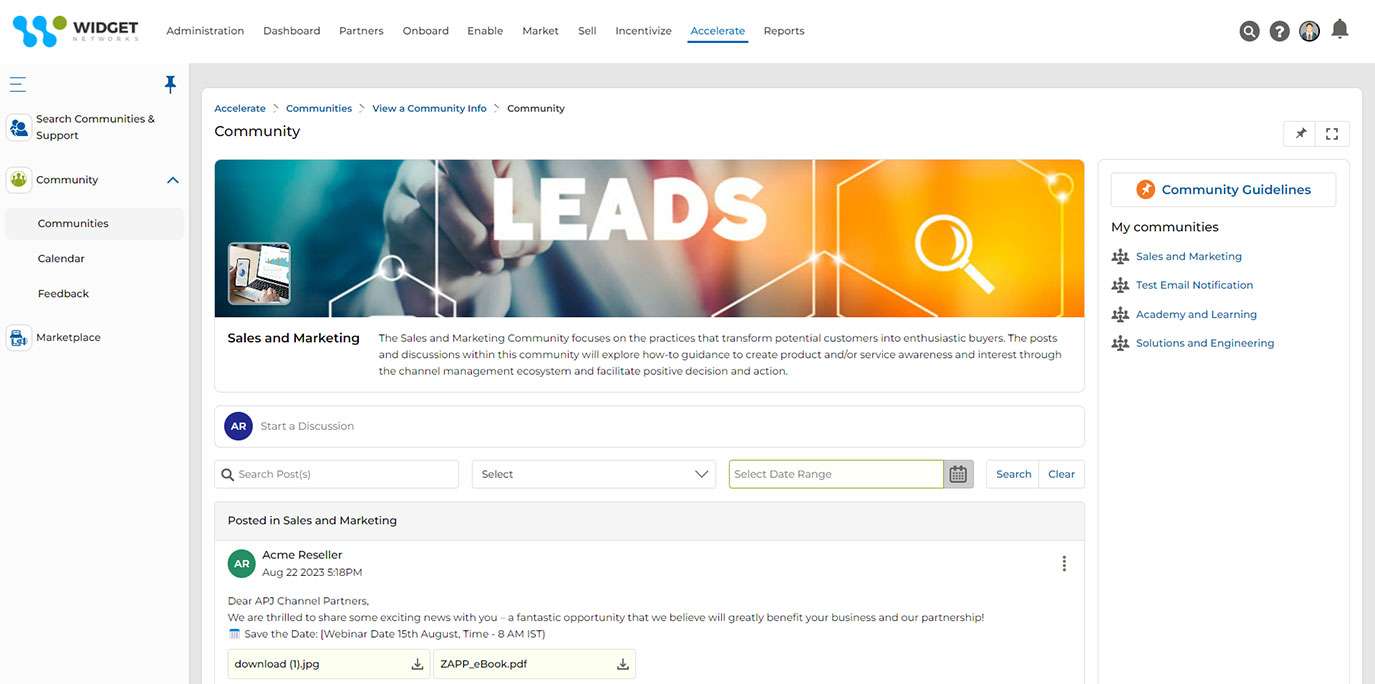 Community and Discussions
UPM Community is a fantastic place to connect with people who matter the most in your company. You can easily exchange information, brainstorm new ideas, and collaborate on projects without meeting face-to-face. Create more projects, close more deals, and funnel in more income for your company through communication via an online community. UPM Community lets you organize multiple online communities to serve your company's purposes.
The Community forum is an online discussion tool where Users and Groups can converse in Posts. The community can be shared with relevant Users and Groups based on Country and Language, and once shared, Users can Post Comments or Like Posts. Easily design and create posts with images by utilizing the integrated HTML Editor and attaching presentations, spreadsheets, PDF files, image files, audio files, and video files to a post or comment. Search posts utilizing enhanced filters viz. Group, Date, etc., and Delete posts/ comments based on access privileges.
Key Features Include:
Search enabled Community and Posts
Partners and Users – Access and Collaboration
Integrated HTML Editor for Posts/Comments
Support for Image and File Attachments
User Comments and Collaboration
ZINFI offers a state-of-the-art discussion group feature with the introduction of its revamped Community Management—where a group of individuals with similar interests can create a community and formally or informally bring up ideas, solve problems, or make comments – collaborating through the Community. Admins can invoke/revoke a ban on a User from accessing Communities and will trigger auto-email notifications to the User.
Within a community, each new discussion can be replied to by as many users or partners as configured and assigned by the Admin. Auto-email notifications are integrated, and community participants receive notification via mail once a Post gets published. The recipient can Like it by clicking the Thumbs Up. Additionally, they can reply/post any additional comment against the initial Post by clicking on the comment logo or directly by replying to the Mail Notification.
Key Features Include:
Ban Users from the Community
Auto-Email Notification
Reply to Posts via Email
Mange Community Tooltips