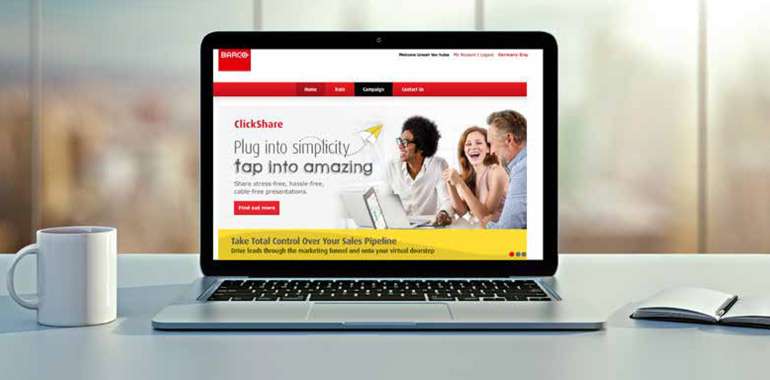 AuDeo Uses Partner Portal of ZINFI to Streamline Email Marketing
Partner Portal Streamlines Email Marketing, Providing Easy Access to Turnkey Marketing Assets, Simplifying Campaign Setup and Execution, and Enabling Generation of New Leads
Pleasanton, CA — March 20, 2018 — ZINFI Technologies, Inc., a company leading the definition and creation of Unified Channel Management (UCM) solutions, today announced a successful engagement with Barco partner AuDeo, a meeting room technology specialist and reseller of Barco visualization solutions based in Basingstoke, UK. AuDeo recently began using partner portal technology built by ZINFI, which is offered through the Barco Connect! program for approved partners and resellers.
AuDeo had sought new ways to generate interest in Barco products, but it knew that product-focused marketing assets rarely worked with its customer base. The company wanted to develop email marketing campaigns that would present customer stories about solving IT problems with better meeting room technology. With help from ZINFI, AuDeo was able to quickly set up and launch a pilot email marketing campaign with customizable assets provided by Barco through the partner portal. Initial results were promising, with AuDeo immediately generating a number of qualified leads from the campaign, one of which culminated in the sale of six Barco ClickShare wireless presentation systems valued at around $10,000.
"We were looking for additional content that we can push out to our audience, and we certainly have done that," said Sarah Roberts, marketing manager at AuDeo. "In terms of the results we've gotten, the portal has far exceeded our expectations, and the campaign enabled us to get some traction with a large customer. The quick setup, the launch side of it is fantastic. It takes you step-by-step through the elements you need to do, so it's very quick to set up the email and launch it. It's excellent in that respect."
AuDeo is now following up on leads generated through the initial campaign, and plans to pursue additional campaigns with the partner portal, again with a focus on customer story and problem solving.
For more information about the partnership between AuDeo, Barco and ZINFI, you can read the complete success story here.
In a recently released report, SiriusDecisions, a major analyst firm, notes that the ZINFI partner relationship management application is well-positioned to address channel globalization, with "the greatest footprint outside of North America of all the pure-play PRM vendors evaluated. In addition, ZINFI's platform natively supports more languages and currencies than the other platforms." The report also praises ZINFI's focus on integration with other channel management automation systems, offering "discrete PRM, CMM and CSM platforms that also can be seamlessly integrated. This positions ZINFI as the only vendor with a native platform across these three core application areas." In addition, the report highlights ZINFI's "simple, all-inclusive pricing approach provides a very strong competitive advantage. Other solutions, which charge by license or user, can get very expensive as the supplier's partner ecosystem grows." To access the full SiriusDecisions SiriusView report on partner relationship management platforms, click here.
ZINFI has also been among the select group of companies that Forrester recently invited to participate in its 2016 Forrester Wave™ evaluation of partner relationship management platform vendors. According to the report, "ZINFI's PRM solution is particularly strong in some of the foundational elements of PRM, specifically its robust support for partner taxonomy/typing and partner tier management." The report adds, "ZINFI is extending the definition of PRM – its solution portfolio extends beyond PRM …."
About AuDeo AuDeo is a specialist in meeting room technology and have been designing, building, installing and supporting video conferencing and meeting room audio visual equipment for over 20 years. AuDeo delivers the meeting room technology and tools required to speed up your meetings, whilst improving the quality of your information and your communications.
About Barco Barco designs technology to enable bright outcomes around the world. Seeing beyond the image, we develop sight, sound, and sharing solutions to help you work together, share insights, and wow audiences. Our focus is on three core markets: Enterprise (from meeting and control rooms to corporate spaces), Healthcare (from the radiology department to the operating room), and Entertainment (from movie theaters to live events and attractions). In 2016, we realized sales of 1.102 billion euro. We have a team of 3,500 employees, located in 90 countries, whose passion for technology is captured in 400 granted patents. For more information, visit us on www.barco.com, follow us on Twitter, LinkedIn, YouTube, or like us on Facebook.
---
About ZINFI Technologies
ZINFI Technologies, Inc., a company leading the definition and creation of Unified Channel Management (UCM) solutions, enables vendors and their channel partners to seamlessly collaborate in a virtual environment to achieve profitable growth on a global SaaS platform.
Headquartered in Silicon Valley, USA, we at ZINFI see an immense opportunity to build high-performing sales channels by deploying a powerful virtual collaboration platform that has been rated #1 by leading analyst firms for simple to complex enterprise channels.
ZINFI's state-of-the-art SaaS Unified Channel Management (UCM) automation platform allows brands and their global partner networks to work together remotely throughout the entire partner lifecycle via three core state-of-the-art SaaS applications—partner relationship management, partner marketing management and partner sales management. ZINFI's UCM is super easy to use and affordably priced, and it comes with a complete set of do-it-yourself tools in multiple languages.
For more information about ZINFI's Unified Channel Management platform, please visit our website at www.zinfi.com. You can also follow ZINFI Technologies on LinkedIn and at the ZINFI Channel Marketing Best Practices blog.