Clarktel Telecommunications Uses NEC Channel Marketing Automation Program to Generate Leads, Build Pipeline and Close Sales
Use of the NEC partner portal, a core component of ZINFI's Unified Channel Management technology, garners 30% + response rate, increases lead generation by 10% to 15% and results in five closed sales after two-month trial.
Pleasanton, CA – November 15, 2016 – ZINFI Technologies, Inc., a company leading the definition and creation of Unified Channel Management (UCM) solutions, today announced that Clarktel Telecommunications, an NEC Channel Partner, has begun using the NEC channel marketing automation partner portal—a core feature of ZINFI's Unified Channel Management platform—with impressive initial results. Using turnkey campaigns provided by NEC through the partner portal, Clarktel executed two email campaigns over a two-month period, achieving a response rate of more than 30%, adding 15 prospects to the sales pipeline, and closing five sales of NEC telecom platforms.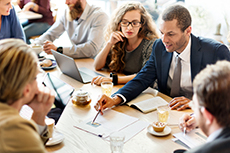 As a small communications and IT infrastructure services company, Clarktel lacks a marketing department and has no formal marketing team. Clarktel is an exclusive reseller of NEC telecommunications platforms—including the UNIVERGE® SV9000 series, UNIVERGE 3C and UNIVERGE BLUE Business Cloud Services—which it offers to a variety of industry sectors. While the company has used marketing consultants in the past, Clarktel decided to try a new tool for generating qualified leads in-house without increasing headcount. Their goal was to put the Clarktel brand and NEC product lines directly in front of customers, increase awareness, build customer loyalty, and create interest both in additional products and upgrades of existing solutions.
So far, Clarktel has executed two email campaigns focused on migrating existing NEC UNIVERGE SV8100 customers to the UNIVERGE SV9100 platforms, utilizing NEC's turnkey campaigns provided through the portal and generating excellent results. As Clarktel moves forward with NEC's channel marketing automation program, they plan to integrate data and functionality from their CRM tool into the campaigns executed through the portal. They are also planning to use NEC's channel marketing automation program in conjunction with a planned call center campaign, and are exploring the possibility of running an NEC campaign aimed at the healthcare vertical.
"We could see from the beginning that this was a powerful tool that we could use to help increase awareness and grow our business," says Terry Clark, CEO of Clarktel. Asked to provide advice for other NEC channel partners, Clark said, "Definitely make use of channel marketing automation program and the partner portal. These are excellent tools for small businesses like ours. We only have 15 employees, and we can't afford to hire a marketing person at this time."
To learn more about the partner portal, NEC Partner Net, a key tool in the NEC channel marketing automation program, please click here. To learn more about the ZINFI Unified Channel Management platform, visit our website at www.zinfi.com.
About Clarktel Telecommunications
Established in 1971, Clarktel Telecommunications is a telecommunications and Information Technology (IT) infrastructure services company that serves small, medium, and large businesses. We specialize in providing system sales, design consultation, and maintenance services to commercial users of telecommunications and IT. Our goal is to provide smart, cost-effective technology solutions to meet the communications and security needs of local businesses. We provide a very high level of support to ensure our clients are satisfied at all times. Our solutions focus on Digital, IP, and Hybrid communications systems as well as a variety of physical security options.
Clarktel Telecommunications has provided telecommunication services to industries and businesses for close to fifty years, including information technology infrastructure (private networks), telephone systems, communication system and network design, and building communications and security systems. Visit our website at www.clarktel.net.
About NEC
NEC Corporation of America (NEC) is a leading technology integrator providing solutions that improve the way people work and communicate. NEC delivers integrated Solutions for Society that are aligned with our customers' priorities to create new value for people, businesses and society, with a special focus on safety, security and efficiency. We deliver one of the industry's strongest and most innovative portfolios of communications, analytics, security, biometrics and technology solutions that unleash customers' productivity potential. Through these solutions, NEC combines its best-in-class solutions and technology, and leverages a robust partner ecosystem to solve today's most complex business problems. NEC Corporation of America is a wholly-owned subsidiary of NEC Corporation, a global technology leader with a presence in 160 countries and $28 billion in revenues. For more information, please visit www.necam.com.