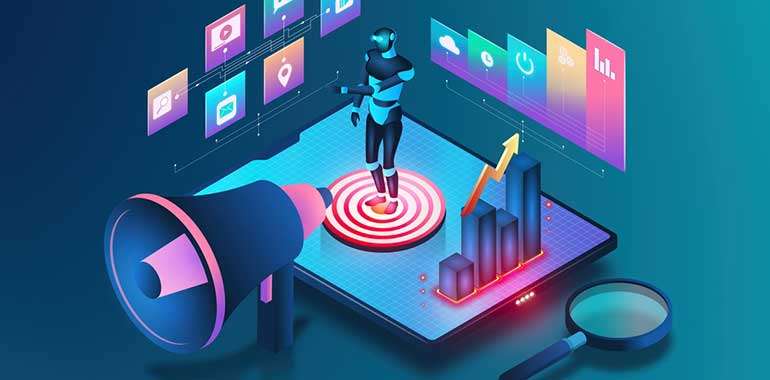 AI is Revolutionizing Channel Marketing Automation: Opportunities, Challenges and Future Trends
Introduction
The rise of artificial intelligence (AI) has brought about significant changes in various fields, including marketing, sales, finance and customer service. Channel marketing automation, in particular, is beginning to experience the impact of AI, which is providing organizations with innovative new tools to sell products and services through networks of third-party organizations such as resellers, agents, distributors and affiliates.
This article explores the transformative effects of AI on channel marketing automation, with a focus on the challenges faced in affiliate marketing and event attendance prediction, as well as future trends in lead generation and buyer behavior analysis. With AI at the forefront, channel marketing automation is set to become more efficient and effective than ever before.
Part 1: Channel Marketing Automation: Understanding the Basics
1.1: Defining Channel Marketing Automation
Channel marketing automation refers to the use of technology and software to streamline, automate and optimize marketing efforts for organizations selling through networks of third-party organizations or partners. These partner networks can include resellers, agents, distributors, wholesalers, brokers, master agents and affiliates or influencers. By automating various marketing tasks, channel marketing software helps businesses save time and resources while ensuring consistent messaging and branding across their partner networks.
1.2: Benefits of Channel Marketing Automation
Channel marketing automation offers numerous benefits for businesses, including:
Improved efficiency: Automating repetitive and time-consuming tasks allows businesses to focus on more strategic and high-value activities.
Better partner engagement: Consistent messaging and branding across partner networks improve collaboration and build stronger relationships.
Enhanced targeting: Channel marketing automation tools can help businesses target the right partners and customers with the most relevant content and offers.
Higher ROI: By optimizing marketing efforts and improving lead generation, businesses can expect higher returns on their marketing investments.
Scalability: Channel marketing automation enables businesses to grow and expand their partner networks without significant increases in resource requirements.
Part 2: AI and Channel Marketing Automation: Opportunities and Challenges
2.1: Affiliate Marketing and Fraud Prevention
Affiliate marketing has long faced challenges with fraud prevention. Some affiliates generate fake leads or clicks on websites to earn commissions. AI algorithms can help detect such fraud by identifying repetitive IP addresses or analyzing engagement patterns. Channel marketing automation companies like ZINFI are leading the way in using AI for fraud prevention in affiliate marketing, saving businesses billions of dollars lost to fake commissions each year.
2.2: Predicting Event Attendance
Another area where AI is making an impact is predicting event attendance. Sophisticated models can estimate the percentage of attendees for a particular event based on factors like weather, traffic, event location and attendee behavior. This information can help channel marketers make more informed decisions about event planning, avoiding waste and optimizing resource allocation.
2.3: Lead Generation and Buyer Behavior Analysis
As AI continues to advance, we can expect to see predictive models for buyer behavior in channel marketing. This will allow partners to better understand their customers' needs and preferences, ultimately improving the sales process and product offerings.
2.4: Personalization and Content Optimization
AI-driven channel marketing automation tools can analyze large volumes of data to identify patterns and trends, allowing for more personalized and targeted marketing campaigns. By understanding individual buyer preferences and behaviors, businesses can create more relevant and engaging content, leading to improved conversion rates and customer satisfaction.
2.5: Partner Recruitment and Enablement
AI can also play a crucial role in partner recruitment and enablement. By analyzing data on potential partners, AI can help businesses identify the best candidates for their partner networks. This ensures a more efficient and effective onboarding process, maximizing the potential for success. In addition, AI-driven tools can help partners become more self-sufficient by providing them with targeted training, resources and support tailored to their specific needs and capabilities.
Part 3: Future Trends in AI-Driven Channel Marketing Automation
3.1: Advanced Predictive Analytics
As AI technology continues to evolve, we can expect more advanced predictive analytics to emerge in channel marketing automation. This will enable businesses to make even more accurate predictions about buyer behavior, market trends and the overall performance of their marketing campaigns. By harnessing the power of AI, businesses will be better equipped to adapt to changing market conditions and stay ahead of their competitors.
3.2: Integration with Other Technologies
The future of channel marketing automation will likely involve the integration of AI with other emerging technologies, such as virtual reality (VR), augmented reality (AR), and the Internet of Things (IoT). This integration will provide businesses with even more tools and insights to optimize their marketing efforts, creating a more immersive and engaging experience for customers and partners alike.
3.3: Real-time Decision Making
As AI-driven channel marketing automation tools become more sophisticated, businesses will be able to make real-time decisions based on data and insights generated by these systems. This will enable companies to respond more quickly to market changes and capitalize on new opportunities as they arise.
3.4: Enhanced Security and Privacy
As AI plays a more prominent role in channel marketing automation, security and privacy concerns will become increasingly important. Businesses will need to ensure that their AI-driven tools and systems are secure and compliant with relevant data protection regulations, maintaining customer and partner trust while protecting sensitive information.
Conclusion
The integration of AI into channel marketing automation is revolutionizing the industry, bringing about numerous opportunities and challenges for businesses and marketers. From improving fraud prevention in affiliate marketing to enhancing event attendance predictions, AI is transforming the way businesses approach their marketing efforts. As AI technology continues to advance, we can expect even more innovations and improvements in channel marketing automation, ultimately leading to more efficient, targeted and effective marketing campaigns.
Businesses that embrace AI-driven channel marketing automation can optimize their marketing efforts, build stronger relationships with their partners and adapt more quickly to changing market conditions. The future of channel marketing automation is undoubtedly bright, and companies that harness the power of AI will be well-positioned to succeed in an increasingly competitive marketplace.