Download your
COMPLIMENTARY COPY
of the
Lead Management Best Practices Guidebook
and learn how you can Acquire and Manage Leads Efficiently.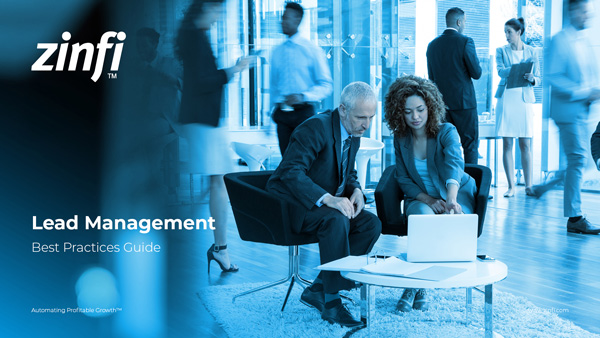 Why Read This Guide?
In today's world, there are virtually unlimited sources of marketing and sales leads. However, when lead volumes are high it is no longer viable to enter new leads into your CRM or marketing automation system one-by-one and nurture them manually. With careful attention to lead management best practices and an automated lead management system, organizations can quickly master the process of efficiently acquiring and managing leads through all the stages in the purchase funnel until a sale is closed. This guidebook explains everything you need to know about managing leads in the digital marketplace.
Want to expand your channel?

Use ZINFI PRM

Modular: ZINFI's ZINFI's Partner Relationship Management (PRM) comes with a comprehensive set of twelve individual modules, but you can pick and choose what you need. This allows you to start automating your channel activities based on the defined processes you have today, but as you define more channel programs, policies and processes, ZINFI's PRM platform grows with you at no additional cost.

Adaptive: ZINFI's Partner Relationship Management (PRM) platform can be quickly configured to fit into your existing infrastructure, connect to other available sub-systems, but also give you the flexibility change or modify them based on your regional and global needs. This unique ability to have different work flows in different regions allow you to tailor your channel management approaches around the world based on local needs.

Intelligent:ZINFI's Partner Relationship Management (PRM) platform gives you an integrated 360 degree view of your channel program, policies and processes to drive your partner performance. The more modules you turn on, the better business intelligence you can gather and correlate programs and policies to high performing partners and partner tiers. This intelligent approach to channel management enables you to build a high performing channel.