Download your
COMPLIMENTARY COPY
of the
Mastering Channel Marketing: Strategies for B2B, B2C and B2G in the Digital Age Best Practices Guidebook
to Learn how to navigate the digital transformation by harnessing the power of partnerships, integrated marketing, multi-partner demand generation, data-driven decisions and more.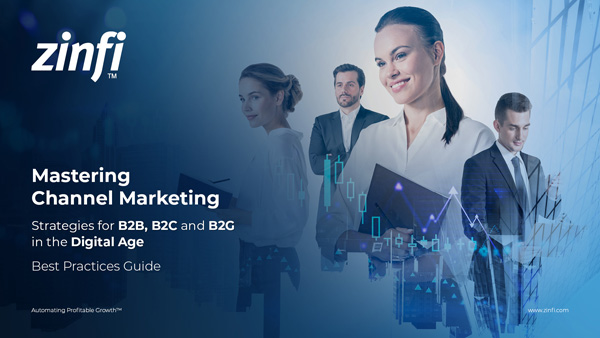 More about our new guidebook, Mastering Channel Marketing: Strategies for B2B, B2C and B2G in the Digital Age
In today's dynamic business environment, channel marketing is a cornerstone for companies aiming to broaden their horizons and succeed by collaborating with distributors, VARS, affiliates, managed services providers and more. Understanding the unique go-to-market motions required in B2B, B2C and B2G environments is essential, as is the distinction between transactional and solution-based offerings.
This guidebook covers a range of topics focused on channel marketing in the digital age, including the most important benefits of collaboration with third-party entities; the impact of channel marketing on sales and product pricing in the B2B tech sector; the importance of targeted, trust-building marketing strategies for solution products; how integrated marketing works within channel marketing; and key tactics in multi-partner marketing such as SEO, social media, email marketing and content syndication.
Download this Guide to learn:
Go-to-market (GTM) motions: what they are, and how they work in B2B, B2C and B2G
How to manage the complexities of collaborating with affiliates, distributors, resellers, VARs and managed services providers (MSPs) while maintaining brand consistency
They key benefits and challenges of channel marketing in the B2B tech landscape
Top channel marketing strategies for both transactional products and solutions products
The role of integrated marketing tactics in multi-partner demand generation
Key metrics for measuring the success of channel marketing initiatives, the importance of ROI assessment, and the use of data to ensure scalability and adaptability
Chapters covered in this Mastering Channel Marketing: Strategies for B2B, B2C and B2G in the Digital Age Best Practices Guide