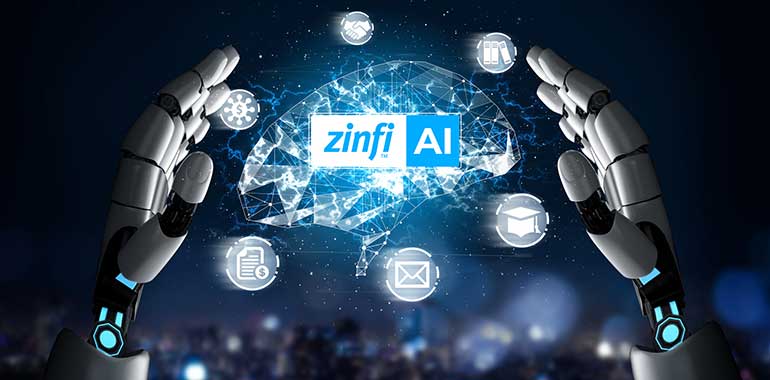 ZINFI Introduces Advanced Generative AI Capabilities for Its Partner Management Platform
Integrating industry-leading GAI capabilities from Microsoft into the ZINFI platform will help enterprises accelerate marketing content generation, analyze and refine partner performance, and increase ROI from partner management platforms and programs.
Pleasanton, CA — September 06, 2023 – ZINFI Technologies, Inc., a leader in partner relationship management (PRM) and through-channel marketing automation, today announced it has launched a set of advanced generative artificial intelligence (AI) capabilities in its SaaS platform for unified partner management. The new toolset will help ZINFI's enterprise customers create targeted marketing content more quickly and efficiently, take advantage of existing internal content and partner-related data to create personalized guided pathways for their partners and leverage Microsoft Power BI and Copilot technology to understand and improve partner performance.
"We have been developing our partner management technology stack on Microsoft Azure Cloud for years now, and today we are announcing the integration of Microsoft's Azure's Generative AI capabilities into our platform as an Early Access Program for our large enterprise customers," said Sugata Sanyal, founder & CEO of ZINFI. "Many of these customers have millions of records and pieces of internal content to train large language models and generate valuable business intelligence. Our new generative AI tools will allow customers to dramatically accelerate their content creation capabilities and help them understand more quickly and decisively why some partners with similar profiles sell more than others. The objective is to help customers provide their partners with more personalized pathways for improvement using ZINFI's workflow automation and generative AI capabilities."
ZINFI's generative AI capabilities will make content creation easier, reveal insights through integrated analytics, provide personalized and self-guided pathways for partners, and increase program utilization across distributed, multilingual, hybrid partner ecosystems.
Generative Content AI – ZINFI's content management system now uses tools for leveraging Microsoft's generative AI capabilities to dramatically accelerate the creation of partner marketing content, including emails, landing pages, social marketing content, blogs, syndication content, and more.
Guided Help – ZINFI already provides guided pathways for platform administrators and generic partner-facing help content. By leveraging these new capabilities, customers can create guided pathways for partners based on existing enterprise content related to their partner programs and portal configuration.
AI Augmented Analytics – ZINFI's platform already comes with Microsoft's industry-leading Power BI analytical capabilities. Today, ZINFI is substantially augmenting those capabilities by integrating Microsoft's Copilot technology, which customers can use to generate dialogue-based insights based on partner performance analytics across various activities to accelerate ROI.
ZINFI's most recent additions to its partner relationship management platform are part of a formal, ongoing commitment at the company to continually improve its technology as the global business environment and the requirements of its clients evolve.
The generative AI capabilities launched today will initially be available exclusively as an Early Access Program (EAP), limited to enterprise customers most likely to experience the highest impact from their deployment. As generative AI tools from Microsoft evolve, ZINFI will expand its platform capabilities across its broader customer base. "As we release more tools related to generative AI over the next several quarters, our enterprise customers will be able to substantially improve resource utilization and ROI management across their entire partner ecosystem," said Sanyal.
ZINFI has consistently been named a PRM "leader" by G2, the world's leading business solutions review website. ZINFI has earned this distinction over multiple consecutive quarters dating back to 2019, most recently in G2's Summer 2023 G2 Grid® Report for Partner Management Software. G2 scores are based on the responses of genuine, verified users and data aggregated from online sources and social networks.
To access more information about ZINFI's Partner Relationship Management platform or to download a copy of ZINFI's best practices guide on Partner Relationship Management, please visit our website at www.zinfi.com. You can also follow ZINFI Technologies on LinkedIn and at the ZINFI Channel Marketing Best Practices blog.
ZINFI offers its potential customers a 30-day free trial (no credit card required) providing access to its entire Unified Channel Marketing (UCM) automation platform. This will allow any prospective buyers to test-drive its industry-leading Partner Management applications before making a purchase decision.
Media contact:
Melissa McNeil
[email protected]
---
About ZINFI Technologies
ZINFI Technologies, Inc. the leader in Unified Channel Management (UCM) innovation, enables vendors and their channel partners to achieve profitable growth predictably and rapidly on a worldwide level. Headquartered in Silicon Valley, USA and founded by channel veterans with extensive global channel management experience, we at ZINFI see an immense opportunity to build high-performing sales channels by deploying an easy-to-use, comprehensive and innovative state-of-the-art SaaS Unified Channel Management automation platform that streamlines and manages the entire partner lifecycle through four core state-of-the-art SaaS applications — affiliate marketing management automation, partner relationship management automation, partner marketing management automation and partner incentives management automation. In 26 countries, these four core UCM SaaS applications are also locally supported by ZINFI's global marketing services team members.
To access more information about ZINFI's Unified Channel Management platform or to download a copy of ZINFI's best practices guide on partner relationship management, please visit our website at https://www.zinfi.com/. You can also follow ZINFI Technologies on LinkedIn and at the ZINFI Channel Marketing Best Practices blog.