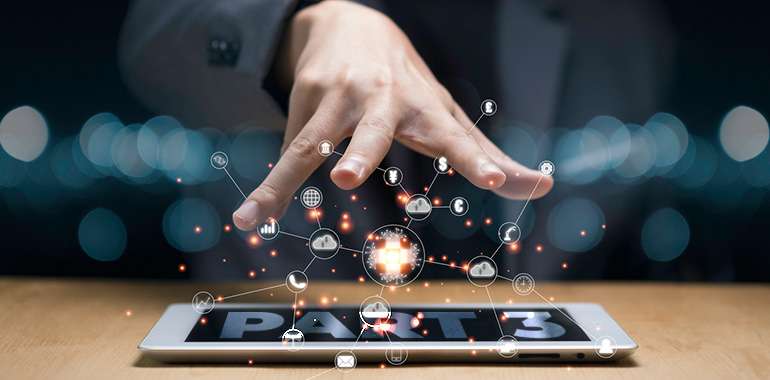 The Core Capabilities of a Best-In-Class PRM Software Platform – Part 3
Making a Dream Come True
As a leader of your partner ecosystem, don't you want to wake up on a Monday morning and not worry about what is going to fall apart during the coming week? The reality is a partner ecosystem can be a very chaotic place – whether you are dealing with tactical day-to-day escalations or much broader misalignment with directional strategy. These things happen because it is very rare for partner organizations to sit down and clearly define their ideal partner audiences, target them in a systematic way and then recruit, onboard, train, enable and manage them. I know it sounds harsh, but we see this as a major challenge every day. Throwing a partner management platform at an ecosystem doesn't make the ecosystem better – and it could possibly make it worse. However, if you have done your homework and figured out who you want to target as you build a partner ecosystem, or who you want to focus on as you grow your current ecosystem, and then address partner strategy, programs, process, people and platform in sequential order, then you have built a foundation for success.
Now, how do you take that systematic approach and pick a PRM software platform?
The end is the only beginning
Once you have a clear partner program strategy; target partners to recruit, engage, enable and manage; and have clearly defined workflows to do that, you have just finished the first version of your partner program. Now the question is how to scale that locally and globally and make sure it stays fresh and current. Today, automation is at the center of every business's digital business process strategy.
Gone are the days of pen and paper or even Excel forms and Outlook-based reviews and responses or Dropbox-based file sharing. You need state-of-the-art PRM software that allows you to be nimble, cost-effective, ROI-centric and super-digital end-to-end. Let's talk a bit about what attributes your platform needs to have based on the elements I have discussed in Part I and Part II of this article series.
Hyper-personalization – One of the core criteria I have discussed for managing a hybrid ecosystem of transacting and non-transacting partners is to make sure your PRM software can create personalized pathways for partner onboarding, training, enablement and management. The more complex your ecosystem is, the more sophistication in groups, profiles, content and workflow management you will need. I will discuss workflows in more detail later, but if you are looking for new PRM software, you will have to make sure it can provide a comprehensive range of do-it-yourself capabilities so you can create hyper-personalized pathways.
Mobility – With the pandemic nearly over, we are all out and about. Partners are on their feet and moving again. Airlines are oversubscribed, and remote or hybrid work is the norm. All of this means that mobility is more important than ever. Therefore, whatever PRM software you select, you will need to make sure it can dynamically feed a mobile app (Android and iOS) so that when the partners are on the go they are not cut off from information. Also, when you think about sales or technical partners, they virtually live on their mobile devices. Therefore, it is much better to connect with them via a mobile app than to push them to a desktop application. Of course, you will need both, but offering mobile access can set your programs apart.
Content – A partner portal is a digital collaboration platform, and to collaborate you must communicate. To communicate you need content that is localized and personalized. It is incredibly important for your PRM software to have the ability to provide personalized pathways that digitally speak to partners – texts, videos, documents, infographics, whatever – in their local language. Therefore, you will need to make sure that your PRM software can hyper-personalize content both locally and globally. All of your content types will need to work in sync with your PRM software's groups and profiles capabilities.
Workflow – This is going to be THE enabler for you to digitize your partner programs and dynamically design, configure, deploy and manage them. Gone are the days where you hire a web design firm to customize web pages and build a hodgepodge of apps to automate your partner programs and processes. That won't work today. You need state-of-the-art PRM software that gives you the ability to drag, drop and design workflows. Ecosystems are living communities and your programs will need to constantly evolve to succeed. You must have granular controls over your workflows without being dependent on your vendor to create customizations. When you are evaluating PRM software, make sure the vendor is not mesmerizing you with a stellar demo while hiding the fact that they are going to own you for life through constant professional services.
Connectors – Yes, right after workflows, one of the most important capabilities that your PRM software should have is dynamic connectors that can integrate with your CRM, incentives, learning, point-of-sales, single-sign-on and other components of the various subsystems you already own. Make sure your PRM software has state-of-the-art connectors to dynamically connect and map fields to the third-party systems you rely on. In the case of connectors, it's okay to be a bit vendor-dependent because some of your third parties may not have the right APIs, but in general, you should look for PRM software that has best-of-breed connectors based on SAML, REST API, etc.
Reports – Last but not least, one of the most important capabilities you need to effectively manage your partner ecosystem is a business intelligence and reporting tool that cuts across your entire partner management platform. You should be able to build reports, run queries and figure out what is working and what is not working in real-time. If your PRM software doesn't come with dynamic business intelligence (BI) tools, you are going to be handicapped forever. It is also important for you to be able to create customized reports that are above and beyond what the PRM software vendor offers. Yes, you can use a vendor's assistance to build custom reports, but it is essential to make sure the vendor will rapidly respond to such requests because your partner portal will always evolve, your programs will constantly change, and you will need a PRM software platform and a vendor that are as dynamic as your programs.
In addition to these core capabilities, you are likely to need a handful of applications or online folders for sharing files, assets and other materials so that you can replace Dropbox or OneDrive, or Google Drive, which provide no personalization. You are also likely to need business plans, contracts, a learning management system and a few other things – I will provide a list in a subsequent article. But the PRM software features I have discussed above are foundational for creating a flexible and dynamic partner program that you can manage on your own. While these foundational features may not cover every possible requirement, they are essential and should be prioritized: If the foundation is shaky, you will have a hard time building a sufficiently flexible partner portal that is dynamic, personalized and localized, and that can be configured on the fly.
When seeing is not believing
Don't believe everything you see, especially in a demo conducted by a salesperson. I say that with all sincerity. Great salespeople are trained to present perfect demos. The question is not how they demo, but can you drive on your own. Would you ever buy a car after sitting in the passenger seat while the salesperson took you for a ride? Of course not. If you are unwilling to buy a $30,000 car without self-driving, why would you consider buying enterprise-grade software based on a sales demo? My two cents to you: If you see a vendor hesitating to hand over the keys, pack up and run. You are wasting your time. You are not buying a car; you are signing up for a life-long Uber service. Yes, it may be fun to have a chauffeur, but expect to cough up a whole lot of money, when what you really want is just to go to work or stop by the grocery store or drop off your kids at the soccer game.
Ask for a free trial. Ask the salesperson to hand over the keys so that you can take the software for a test drive. Then, with keys in hand, look for the following core capabilities:
Ease of use – Is the portal intuitive? Can you figure out what to do? Does the PRM software have built-in wizards? Can you follow the steps to set up a portal, upload assets, design pages, configure the applications and more on your own, without relying on the PRM software vendor to do it for you? Make sure the portal also comes with help content, videos, guidebooks, step-by-step solutions videos, pre-built templates and whatever else you need to make full use of the platform in a way that works for you.
Configurability – When you get access to a free trial, try to set up one of your most complex workflows – not just the easy ones. For example, try to connect to your CRM to map objects and sync dynamically. Make sure when your PRM software vendor says it is fully dynamic, it actually is – not 80% dynamic and 20% dependent on professional services.
Future-proof – You may start small with a few applications, but as you grow your partner program will also grow, and you will need to keep adding different applications and workflows to keep your partner ecosystem functioning well without getting stuck. When you get started with a PRM software platform, you want to have the foundation of a skyscraper without necessarily building or buying all floors. So when you get a trial, make sure you have a clear idea of how you can add, expand, configure and deploy new capabilities as your requirements evolve. Your programs will change; so will your partner portal.
Innovation – Ease of use, configurability and future-proofing are crucial to making sure you can manage on your own, but you need more than that. Verify that the PRM software vendor is constantly innovating and adding new features, capabilities, tools, and templates on a quarterly basis to keep building the platform. You never know how your requirements will change when you acquire another company or the marketplace undergoes a dramatic shift.
ROI – In the end, whatever digital investment you make, it needs to provide a return with a low ongoing cost of maintenance. When you consider the return on investment (ROI) for your PRM software, make sure you understand the total cost of ownership (TCO) over time. Consider not just the upfront cost, but also how manual or dynamic the system is. How much you must pay the PRM software vendor to configure the platform for you? What you can do on your own for free, without having to pay for professional services down the road? What costs, if any, will you incur for product support? Add all these factors up to estimate your true costs, and then ask the vendor how much ROI to expect and how quickly you can expect to achieve it.
As I said earlier, begin your journey with the end in mind, and make sure you have control over where you are going. Your ecosystem will evolve, which will drive your programs to evolve, so you will need a PRM software platform that is fully equipped for ecosystem management and can constantly evolve. It is essential to visualize where you are going and understand deeply what PRM software has to offer.
We have provided a checklist below for you to use to vet software vendors and their capabilities. Use it, and don't believe what you see. Test drive it – experience it for yourself – before you commit to a product. Selecting PRM software is the end of your evaluation cycle, but it is only the beginning of your success journey. To make your dream a reality, begin with the end in mind, but know the end is only the beginning.
Author:
Sugata Sanyal