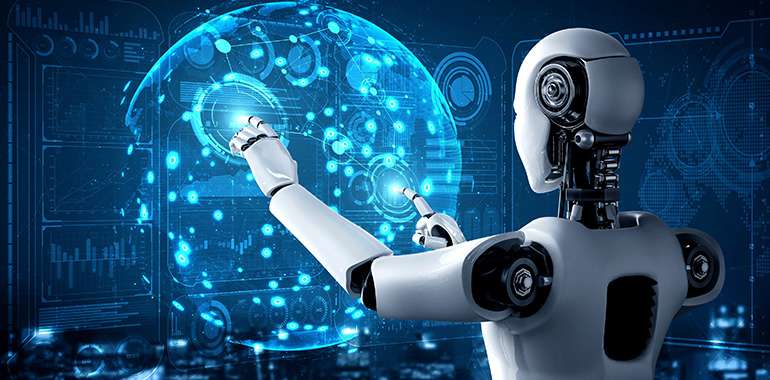 ZINFI Releases Complimentary Best Practices Guide on Using AI to Transform Partner Marketing and Sales
Free guidebook explains how artificial intelligence is revolutionizing partner marketing automation and provides multiple examples tied to the core practices of partner management
Pleasanton, CA — July 13, 2023 – ZINFI Technologies, Inc. , a company leading the definition and creation of Unified Channel Management (UCM) solutions, today announced that its latest guidebook — the AI-Driven Partner Marketing and Sales Transformation Best Practices Guide — is now available as a complimentary downloadable eBook. ZINFI's latest guidebook is aimed at channel professionals and participants in partner ecosystems who are interested in understanding how artificial intelligence (AI) is changing partner marketing automation now and how it is likely to impact processes and practices in partner ecosystems in the years to come.
The AI-Driven Partner Marketing and Sales Transformation Best Practices Guide is divided into two parts. Part 1 focuses on the opportunities that AI is opening up in partner marketing automation and the specific challenges the technology is best-equipped to address. After an introductory chapter that provides an overview of partner marketing automation basics and the benefits its brings, the guidebook presents separate chapters on "Artificial Intelligence and Partner Onboarding," "How Artificial Intelligence Can Improve Partner Enablement," "Unlocking the Benefits of Partner Collaboration with AI: Strategies and Challenges," "How Artificial Intelligence Can Improve Partner Incentives" and "The Impact of Artificial Intelligence on Channel Sales."
Part II of the guidebook serves as an introduction to ZINFI and its concept of Unified Channel Management (UCM), providing an overview of the core and expanded modules that are part of ZINFI's integrated platform for partner management automation. It also presents overviews of the specific modules available for affiliate marketing management (AMM), partner relationship management (PRM), partner marketing management (PMM) and partner incentives management (PIM).
"This guidebook shines a light on the convergence of two major trends that will shape the business world for years to come: the emergence of dynamic partner ecosystems as a huge factor in global commerce, and the integration of AI technologies into nearly every digital business practice, including partner marketing and sales," said Sugata Sanyal, CEO and founder of ZINFI Technologies. "At ZINFI, we work closely with major global brands, midsize companies and small businesses every day to help them navigate the complex challenges of managing a partner network and realize the many benefits that automation-enabled efficiency and scalability can enable. We want to share what we're learning about the role of artificial intelligence in partner management automation. The guidebook is designed to give businesses a foundation they can build on now, and also help them plan for the future."
The AI-Driven Partner Marketing and Sales Transformation Best Practices Guide can be downloaded here: https://www.zinfi.com/guidebooks/ai-partner-marketing/.
ZINFI has consistently been named a PRM "leader" by G2, the world's leading business solutions review website. ZINFI has earned this distinction over multiple consecutive quarters dating back to 2019, most recently in G2's Summer 2023 G2 Grid® Report for Partner Management Software. G2 scores are based on the responses of real, verified users and data aggregated from online sources and social networks.
ZINFI offers its potential customers a 30-day free trial (no credit card required) providing access to its entire Unified Channel Marketing (UCM) automation platform. This allows any prospective buyers to test-drive its industry-leading channel management applications before making a purchase decision.
Media contact:
Melissa McNeil,
[email protected]
---
About ZINFI Technologies
ZINFI Technologies, Inc. the leader in Unified Channel Management (UCM) innovation, enables vendors and their channel partners to achieve profitable growth predictably and rapidly on a worldwide level. Headquartered in Silicon Valley, USA and founded by channel veterans with extensive global channel management experience, we at ZINFI see an immense opportunity to build high-performing sales channels by deploying an easy-to-use, comprehensive and innovative state-of-the-art SaaS Unified Channel Management automation platform that streamlines and manages the entire partner lifecycle through four core state-of-the-art SaaS applications — affiliate marketing management automation, partner relationship management automation, partner marketing management automation and partner incentives management automation. In 26 countries, these four core UCM SaaS applications are also locally supported by ZINFI's global marketing services team members.
To access more information about ZINFI's Unified Channel Management platform or to download a copy of ZINFI's best practices guide on partner relationship management, please visit our website at https://www.zinfi.com/. You can also follow ZINFI Technologies on LinkedIn and at the ZINFI Channel Marketing Best Practices blog.