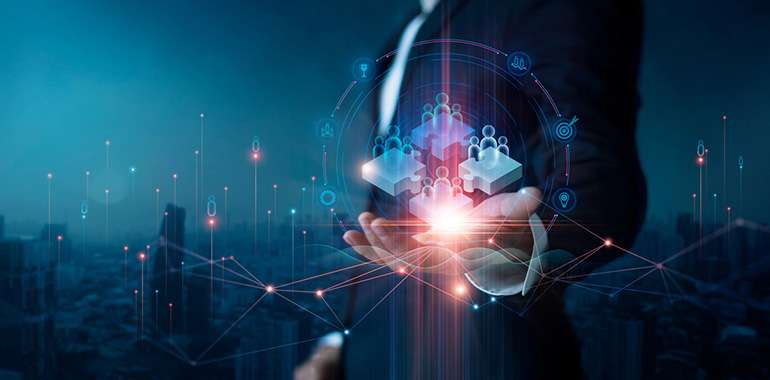 The Challenges of Partner Onboarding Using a Channel Marketing Management Tool
In a post-pandemic work environment, marketing is finally returning to its physical roots. As we come out of our caves and ditch our masks, it is becoming normal again to attend events and tradeshows.
Partners have traditionally marketed in a way that depends heavily on events, and the last few years have been tough for companies trying to get their partners engaged with digital tools. In this article, we will explore some of the new challenges organizations face when it comes to onboarding partners with a channel marketing management platform.
What is a channel marketing management platform?
A traditional channel marketing management platform typically has a set of co-branded tools – like search, social, email, events, microsites, syndication and so on – that a channel partner can use to run a variety of marketing campaigns. We will discuss in a minute what a next-generation channel marketing management platform looks like.
What are the challenges today?
As GDPR and other data privacy laws have kicked in over the past five years, most partners' email marketing lists have shrunk, because a lot of their prospects didn't sign up for that double opt-in email campaign. As a result, partners resorted to a variety of other tactics exclusive of outbound email campaigns. Covid-19 made the situation even worse since most partners were unable to hold events. The combination of shrinking double opt-in lists and the virtual disappearance of event-based marketing pretty much killed partner marketing during this period.
Did channel marketing work before?
The simple answer is: sometimes. Yes, channel marketing did work prior to the pandemic and data privacy restrictions; however, it tended to focus on telemarketing, email and event marketing. Around 15 years ago, there were a whole bunch of new channel marketing management providers entering the market with a set of tools that basically replicated direct marketing toolsets. There was a modest level of innovation at the time, and some of the tech vendors embraced those tools, but eventually, they fizzled out.
Why didn't these tools work well?
There are really two answers to this. First, most channel partners did not – and still do not – have dedicated resources for marketing, and they tend to generate their leads via word-of-mouth, or the vendor does it for them. Second, the first-generation channel marketing management tools were not that great. So, poorly designed channel marketing management software, coupled with minimal partner engagement, made this category more of a science project instead of an enabler of demand generation.
Where is channel marketing management headed?
In a post-pandemic world where millennials are becoming the driving force behind most purchases and Gen Xers are co-deciders, the best-of-breed channel marketing management platforms tend to provide a set of legacy tools alongside a new set of tools. The emphasis today is a lot more about designing the right tactics and programs that align with partner capabilities than randomly throwing out bunch of integrated campaigns and expecting partners to generate loads of leads overnight.
Is onboarding partners with a channel marketing management platform still challenging?
Yes, it is always challenging to onboard partners using a new software platform or portal, because partners are busy doing their own thing, and there may be dozens of vendors trying to get them engaged. Partners have neither the time nor the money to pursue something new. Onboarding them to any type of channel program remains difficult; getting them to take the steps to onboard using a digital channel management platform is that much harder.
What would be the best way to proceed from here?
In spite of all the things I have said so far, there is still a decent opportunity to help channel partners use channel marketing management platforms in an effective way. But it is critical to make sure the right programs and campaigns are given to the right partners. Also, when it comes to the channel, vendors should keep in mind less is more. If you have a five-tactic campaign working well on the direct side, do not expect a channel partner to replicate that success. You will have much better outcomes if you keep channel programs simple, give partners a couple of tactics they can realistically execute and then build on the results.
How can we onboard partners globally?
First, you have to be able to provide the right campaigns for specific kinds of partners. Then, if you want to onboard partners globally, you must have a localized version of those campaigns and make sure they will work in those markets. Finally, you should really consider a platform that is super easy to use and has self-guided tours. Another approach is to outsource a partner marketing concierge agency that can help you onboard partners to your platform. The good news is, today there are a few highly user-friendly platforms like ZINFI's partner marketing management platform that guides you through the onboarding process. With the right localized programs, you should be able to onboard partners relatively easily and replicate your efforts across different partner types and geographies.
I hope this article gives you a good overview of some of the challenges we face today in a post-pandemic world and also lays out a few pragmatic solutions. The key is to make sure you have a channel marketing management platform that is built for tomorrow and not a reflection of the past. With that in place, you will need to design the right campaigns for the right partner groups, and then think through a structured onboarding program to make sure partners find it easy to engage, learn and deploy your campaigns and other features in the platform.