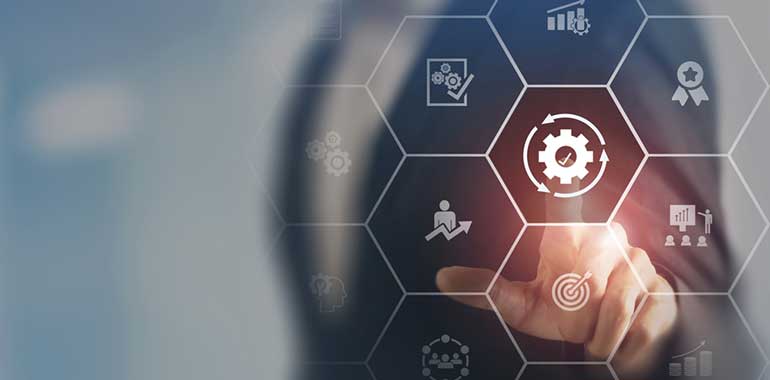 Partner Relationship Management: An Alphabetical Guide to 50 Key Terms
Introduction
Understanding the intricacies of partner relationship management (PRM) is crucial in business. Partner relationship management combines strategies, processes, and automation to streamline interactions between companies and the network of partners who sell their products.
This article provides an alphabetical list of 50 critical terms about partner relationship management (PRM) and related areas, such as partner marketing management, through-channel marketing automation, affiliate marketing management, partner ecosystem management, and partner incentives management. A brief 25-word description accompanies each term to provide a concise understanding of its meaning and relevance.
Here is a master list of partner relationship management (PRM) terms in alphabetical order, along with their 25-word descriptions:
Affiliate marketing management: A performance-based strategy where affiliates promote products or services and earn commissions for successful referrals or sales.
Business process digitization: Converting traditional business processes into digital ones for increased efficiency and accuracy.
Channel: A distribution channel through which products or services are marketed and sold to end customers.
Channel conflict: Disputes or disagreements between channel partners or within a manufacturer's sales channels.
Channel enablement: Providing partners with resources, tools, and training to effectively market and sell products or services.
Channel incentives: Rewards, bonuses, or incentives provided to channel partners based on performance, such as sales targets or market share.

Channel management: Managing and optimizing relationships between a company and its channel partners.
Channel marketing: Activities and strategies to promote a product or service through channel partners.

Channel marketing automation: Automating activities and processes conducted by organizations selling via a channel network, focusing on to-partner and through-partner marketing.
Channel partner: An organization or individual that collaborates with a company to promote and distribute its products or services.
Channel ROI (return on investment): A measurement of the profitability and effectiveness of channel partner relationships in revenue generated.
Channel strategy: Overall plan and approach for utilizing channel partners to reach target markets and drive sales.
Channel support: Assistance, resources, and guidance provided to channel partners to facilitate their sales and support efforts.
Channel visibility: Insights into channel partners' performance, activities, and sales.
Co-marketing: Collaborative marketing activities between two or more organizations to promote a mutually beneficial product or service while sharing costs and resources.

Content management system (CMS): Software that allows users to create, manage and modify website content without specialized technical knowledge.
Deal protection and registration: Formal registration of a sales opportunity with a vendor or manufacturer, granting unique benefits and security to the partner.

Distributor: An intermediary entity that purchases products from a manufacturer and sells them to retailers or end customers.
Enablement: The provision of resources, training, and support to channel partners to enhance their ability to sell and support a product or service.
Financial performance analysis: Identification of a firm's strengths and weaknesses that focus on relationships between balance sheet items and profits and losses.
Geographic scope: Geographical area or regions where a company chooses to operate or sell its products or services.
Incentive Programs: Programs designed to motivate and encourage partners to achieve specific business goals, such as selling more of a particular product or service.
Independent software vendors (ISVs): Individuals or businesses that build, develop and sell consumer or enterprise software run on third-party hardware platforms.
Lead distribution: Assigning sales leads to the appropriate salesperson, department, or partner.
Lead generation: Identifying and attracting potential customers or prospects who have expressed interest in a product or service.
Lead management: Capturing, tracking, and nurturing sales leads to convert them into opportunities and revenue.
Lead scoring: Assigning a numerical value or score to leads based on their characteristics, behavior, and likelihood of conversion, a process that aids the prioritization of leads and follow-up.
Marketing development funds (MDF): Funds provided by manufacturers or vendors to their indirect sales channel partners to help with sales and marketing programs.
Non-exclusive distribution: Distribution agreement where the distributor is not given exclusivity rights within a geographical area.
Onboarding: Integration of a new partner into a company's partner network, including training and familiarization with the company's products or services.
Partner ecosystem: A network of organizations—including vendors, partners, suppliers, and customers—that collaborate to create value and deliver solutions.
Partner ecosystem management: Management and optimization of all partner types in a company's partner ecosystem, including resellers, service partners, ISVs, and technology partners.
Partner enablement: Strategies and resources provided to partners to enhance their capabilities, knowledge, and performance in selling and marketing products.
Partner incentives management: Design, implement, and manage incentive programs to motivate and reward partners for achieving desired outcomes.
Partner marketing management: Planning, execution, and optimization of marketing strategies and activities targeted at partners to drive engagement and sales.
Partner portals: Web-based applications that allow partners to access a vendor's network and obtain information about products, policies, and procedures.
Partner recruitment: Finding and attracting new partners to join a company's partner program.
Partner relationship management (PRM): A business strategy for improving coordination and communication with business partners who sell your products or services.
Partner training and certifications: Programs and processes designed to provide partners with the knowledge and skills to sell, implement, and support specific products or services.

Program incentives: Rewards offered to partners for achieving specific goals or milestones within a partner program.
Recurring revenue: Revenue generated through subscription-based or ongoing sales models, typically involving recurring customer payments over a specified period.
Reseller: Channel partner that purchases products from a manufacturer and resells them to end customers without altering their form.
Revenue sharing: Model where the manufacturer and channel partner share the revenue generated from sales, usually through predefined percentages.
Sales enablement: Provision of resources, tools, and training to sales teams and partners, empowering them to engage with prospects and close deals effectively.
Sales forecasting and pipeline: Systematically tracking and managing sales opportunities at various sales cycle stages, from initial lead to deal closure.
Sales quota: Target or goal set for a channel partner or sales representative to achieve sales revenue or volume.
Shark tank: A lead distribution mechanism using an "open" approach in which a list of end-user prospects is shared with multiple partners simultaneously to pursue and close specific transactions.
Through-channel marketing automation (TCMA): Technology category that enables companies to scale and automate marketing activities through their partner networks.
Upsell/cross-sell: Persuading customers to purchase additional or complementary products or services, increasing their overall value and satisfaction.
Value-added resellers (VARs): Companies that add features or services to an existing product, then resell it as an integrated product or complete a "turnkey" solution.
Understanding these terms is essential for anyone involved in partner relationship management. They provide a foundation for navigating the complexities of partner relationship management (PRM) and related areas. With this knowledge, you can better manage your partner relationships, optimize your partner ecosystem, and ultimately drive more sales and profits for your business.