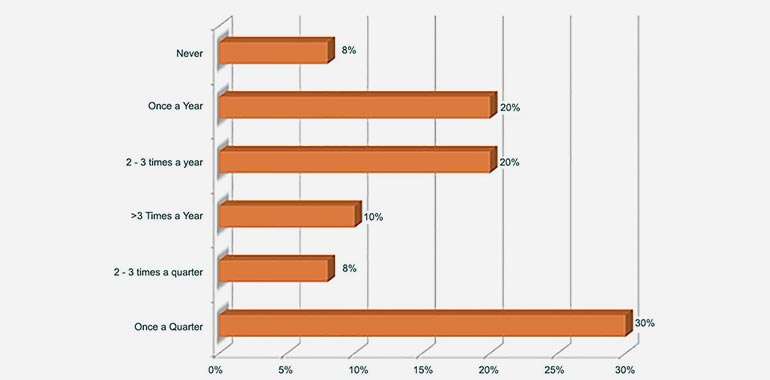 What Can You Do to Drive Your Market Development Funds Utilization?
At ZINFI, we do a bi-annual worldwide channel survey across a broad range of channel partners and resellers to understand various opportunities related to marketing and sales activities. One of the core areas we ask questions are tied to Market Development Funds (MDF). The typical questions we ask are tied to how easy it is to apply, what partners want to do, etc. In one of our recent surveys we asked the partners who had access to Market Development Funds (MDF) about how frequently they use such funds. The answer was not at all surprising.
As a part of this survey we reached out to about 4,000 partner contacts on a world-wide basis and asked whether they have Market Development Funds (MDF) or not. Those who said that they have MDF (which was about 30% of the total respondents) were then asked how frequently they use MDF. The attached graph shows, most partners do not use MDF. There are a few things a vendor can do to drive better utilization and return on marketing investment.
Keeping it simple – Very often there are too many criteria to be satisfied to be eligible for a Market Development Funds (MDF), which is a major turn off for partners to participate. So, keeping things simple and performance-focused helps to drive MDF adoption.
Setting up the right program – Once you have built a simplified MDF access process, the key is to identify a core set of programs that the partners could apply for, based on your sales objectives. While competency development (training, etc.) are top MDF usages, above and beyond that there are other things a vendor can do to select the right program.
Contacting the right partner – Once you have set up the right programs, it is essential that you do not do a broad communication and try to tell everything to everyone. You need to make sure that you have the right Partner Relationship Management (PRM) platform in place that allows you to send segmented messaging to the right partner – based on their tier and competency profile to drive demand in a category.
Contacting the right person – Too often a vendor selling through a channel doesn't have the right marketing contacts at the partner organization. So communications related to various programs funded by Market Development Funds (MDF) tend to go to the wrong people or don't reach the target organization at all. It is essential to make sure that you have the right up-to-date marketing contact information from the partner organization you are targeting. You can do that by regularly scrubbing your partner contact database.
Paying for performance only – Be clear, be fair, but be tough in paying off for MDF claims that do not have clear proof of performance. Many times we see partners with no proof of performance submit claims and get paid because of their status or relationship. The word spreads pretty quickly and it's unfair to the partners who are working hard to drive results. So, be very selective on who you pay based on performance. Programs like Prospecting BlitzTM can drive tangible results across many partners, and also drive MDF utilization.
Sharing success broadly – Once you have reached the right partner contact with the right program and approved a plan to execute, sharing success from a program also drives adoption. Many horizontal programs – like training and certification, horizontal products, etc., that can scale globally drive success with clear and definite ROI.
Rinse and repeat – We say this a lot when it comes to Market Development Funds or Channel Programs because too often vendors get carried away in running new campaigns and miss out on the opportunity to scale on campaigns that have already worked. Therefore, make sure before you drop one and add another campaign, that your high performance programs have been fully utilized and scaled across as many targeted partners as possible. Too many is too much for the channel.
ZINFI's Partner Relationship Management (PRM) platform can provide you with a complete set of integrated tools to set up the right campaigns, select the right partner, market to them properly and drive engagement to execute. ZINFI can also help you with scrubbing your partner databases for multiple countries and coming up with the right marketing contacts. ZINFI is a global organization – currently supporting twenty-six countries and have partner database scrubbing capabilities in many countries.