Download your
COMPLIMENTARY COPY
of the
Digital Marketing Strategy for SaaS Leaders Best Practices Guidebook
to learn how SaaS Leaders can deploy practical, cost-effective strategies to compete with industry giants and build a strong online presence.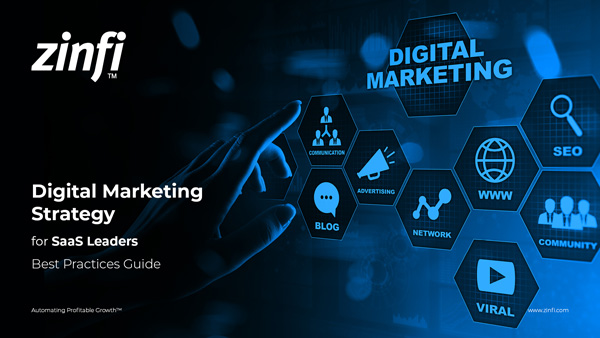 Mastering Digital Marketing: A Comprehensive Step-by-Step Guide for SaaS Leaders
In today's digital landscape, a strong online presence is vital for businesses to succeed in a fiercely competitive marketplace. Digital Marketing Strategy for SaaS Leaders offers a comprehensive roadmap for mastering digital marketing, providing succinct explanations of essential strategies for effective inbound digital marketing. Among these strategies are keyword analysis emphasizing long-tail, niche keywords; content creation, which is democratized by tools like ChatGPT; and a consistent online presence reinforced by iterative marketing strategies.
The guidebook discusses the enduring power of email marketing for personalized communication, shows how social media platforms are indispensable tools for building brand identity and engagement and argues for the significance of online reviews in influencing buyers and improving trustworthiness. Digital Marketing Strategy for SaaS Leaders demonstrates that success in digital marketing relies on strategic prowess rather than budget size, and explains exactly how businesses can cost-effectively generate leads and foster brand loyalty.
Download this Guide to learn:
Find niche keywords that boost organic search rankings, driving relevant traffic and conversions.
Create captivating blog content, even if you're not a writer. Modern tools like ChatGPT make content creation accessible to all.
Uncover the timeless potency of email marketing. Build and nurture relationships with personalized, value-driven content.
Leverage social platforms to amplify your brand. Consistency is the key to building a loyal community of followers.
Consistently implement and refine strategies for continuous growth.
Harness the power of online reviews and actively engage with customers to enhance trust and market standing.
Chapters covered in this Digital Marketing Strategy for SaaS Leaders Best Practices Guide
✔

A Step-by-Step Guide to Building Your Digital Marketing Foundation
With a modest budget and a focus on essential strategies, you can compete with industry giants. This chapter covers keyword analysis, blog writing, email marketing and social media marketing, the importance of consistency, and the value of online reviews of your offerings from satisfied users. Learn how dedication and adaptability can help you unlock sustained lead generation and brand loyalty.