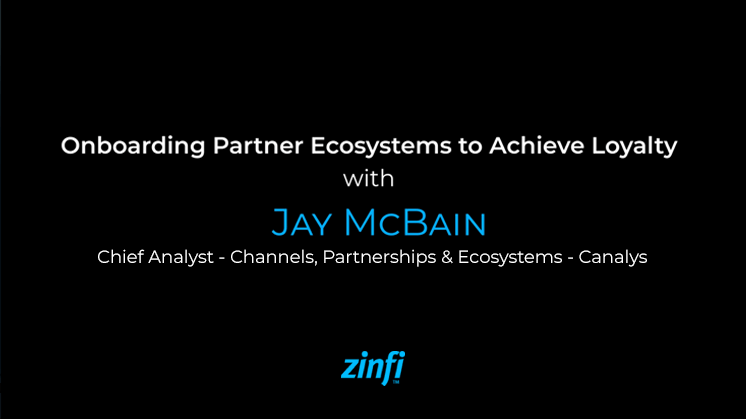 ZINFI Launches "Feet on the Street" Video Podcast Series Featuring Industry Influencer Jay McBain, Chief Analyst, Channels & Partnerships, Canalys
Pleasanton, CA — January 11, 2023 –

ZINFI Technologies, Inc., a company leading the definition and creation of Unified Channel Management solutions that include affiliate marketing management (AMM), partner relationship management (PRM), partner marketing management (PMM) and partner incentives management (PIM), along with special guest Jay McBain, Chief Analyst at Canalys, today announced the release of the first chapter in its "Feet on the Street" educational video podcast series focused on achieving partner loyalty through new ways of onboarding partner ecosystems.

The nine-chapter video podcast series – which is now available on demand from the ZINFI website – begins with an interactive session that takes a deep dive into the concept of partner ecosystems and how they are reshaping the business world. The podcast series builds on the idea that a partner ecosystem is made up of channels of all kinds, noting that fully three-quarters of world trade flows indirectly across all industries. McBain explains, "Partner ecosystems are essentially a set of partners that are not only showing up at that point of sale, but also across many different points of value across the chain."
In the first podcast and throughout the entire series, McBain provides examples of successful companies that are implementing new and innovative methods of partner onboarding with positive outcomes. Other topics addressed in the series include why different partner types matter when building an onboarding practice, how best to run innovative incentives programs, and tracking and rewarding the entire ecosystem. The series also explores how organizations can optimize their onboarding practices by automating the entire process and delivering hyper-personalized programs through the use of configurable and customizable partner relationship management software.
The 35-minute inaugural video podcast also addresses the importance of thinking globally when building new partner onboarding and loyalty programs. McBain and Sanyal identify companies that are doing well in establishing partner loyalty and explore in depth how they do it and the benefits they are getting out of it.
"When designing a partner onboarding program for an ecosystem, everyone needs to consider the customer journey," says Sanyal. "Successful companies will think about locations, swim lanes, alliance partners, affiliates and system integrators to bring them through the opportunity door."
"2023 is the year of operational and automation focus," added McBain. "Companies cannot achieve their financial targets alone. Ensuring partnerships are monitored, managed, measured and hyper-personalized is crucial to delivering high levels of partner recruitment, engagement and loyalty over the long term. For organizations that focus on these activities, the outcome will be fulfilled revenue goals and increased loyalty among partners and customers alike."
The full video podcast can be viewed here.
About Feet on the Street Podcast Series:
ZINFI's Feet on the Street Podcast Series consists of educational conversations with influencers, industry leaders and channel executives across the world. In this series, we discuss evolving trends and discuss real-life customer challenges with partner relationship management and automation. Listen in to hear from these road warriors, with both feet on the street, discussing the dynamics of all aspects of partner ecosystems.
Media contact:
Louise Crawford,
[email protected]
---
About ZINFI Technologies
ZINFI Technologies, Inc. the leader in Unified Partner Management innovation, enables vendors and their channel partners to achieve profitable growth predictably and rapidly on a worldwide level. Headquartered in Silicon Valley, USA and founded by channel veterans with extensive global channel management experience, we at ZINFI see an immense opportunity to build high-performing sales channels by deploying an easy-to-use, comprehensive and innovative state-of-the-art SaaS Unified Channel Management (UCM) automation platform that streamlines and manages the entire partner lifecycle through four core state-of-the-art SaaS applications — affiliate marketing management automation, partner relationship management automation, partner marketing management automation and partner incentives management automation.
In 26 countries, these four core UCM SaaS applications are also locally supported by ZINFI's global marketing services team members.
To access more information about ZINFI's Unified Channel Management platform or to download a copy of ZINFI's best practices guide on partner relationship management, please visit our website at https://www.zinfi.com/. You can also follow ZINFI Technologies on LinkedIn and at the ZINFI Channel Marketing Best Practices blog.