Why Read This Report
ZINFI is one of only 14 PRM providers that currently meet Forrester standards for inclusion in the report, which researches, analyzes and scores companies on 22 criteria under three broad categories: current offering, strategy and market presence.
"Paired with strong through-channel marketing automation functionality, concierge services, and sales enablement, [ZINFI] was one of the first to envision unified channel management," according to the Forrester. The 2020 report describes ZINFI as "a PRM Leader, thanks to a comprehensive technology backbone," and calls attention to a number of enhancements the company has made to its platform since the 2018 Forrester PRM Wave report, including the launch of the platform on Microsoft Azure, additional security certifications, increased automation for partner onboarding, and the release of new remote collaboration tools developed at the onset of the COVID-19 pandemic.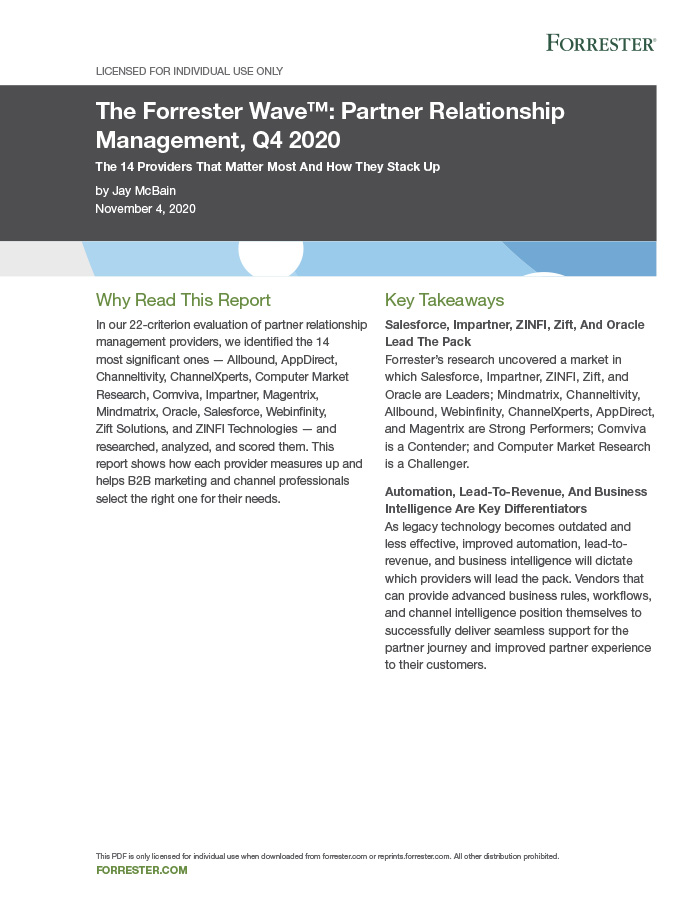 ZINFI's PRM solution continues to capture the attention (and win rate) of large and highly complex technology and manufacturing channel programs. It is one of the most robust platforms for partner relationships with deep levels of customization and workflow automation built from the ground up.
Thank you for your interest in reading The Forrester Wave™: Partner Relationship Management, Q4 2020 report. To download a copy of this report, please contact Forrester directly – or visit their website (go.forrester.com) to gain access to this report. Alternatively, please read our press release here.
Download Best Practices Guidebook