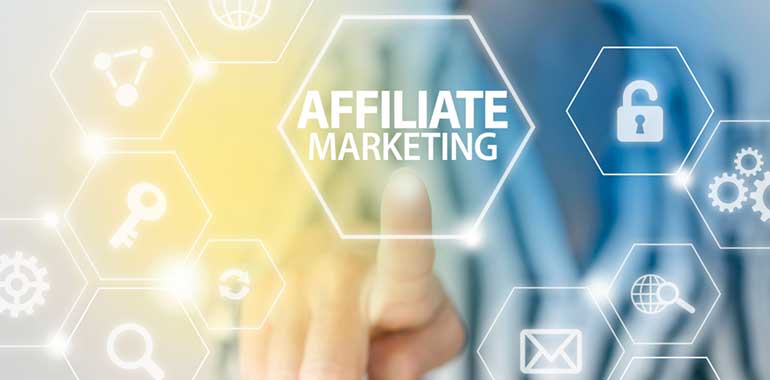 Onboarding Affiliate Marketing Partners Using Partner Management Software
It is an exciting time to be in the world of partner management. As the worldwide GDP grows and more advanced technology proliferates, go-to-market motions are being rethought constantly. Who would have thought a decade ago that Instagram would be a major influencer platform and companies would invest billions in promoting their brand ambassadors? Today's partner management (PRM)  software is a part of that economic evolution, and a state-of-the-art PRM platform can enable seamless management of various partner types, including influencers and affiliate partners. In this article, we will explore what affiliate marketing is and how partner management software can help organizations onboard these types of partners.
"Affiliate" is a term that has been around for centuries. The word comes from the Latin stem
affiliare
, meaning "to adopt." From a marketing perspective, affiliate refers to a person or an organization that is associated with your brand and willing to promote that brand to their customer base. In consumer marketing, affiliates have traditionally been celebrities, but over the past several years we have seen the rise of YouTube, Instagram, TikTok and Twitter influencers. Every country has their influencers, but the specific social media platforms that are most widely used by influencers tend to vary by country or region.
Influencers
can have a huge follower base and, depending on their specific focus and the size of their audience, may provide enormous value to brands by reaching a loyal base in a much more targeted way than traditional mass marketing is able to do. Today, there is partner management software in the marketplace that focuses exclusively on consumer affiliate marketing and management. When it comes to businesses, affiliates tend to be individuals who are consultants or experts in a specific domain; technology bloggers are great examples of that. However, the majority of affiliates tend to be smaller organizations or individuals who consult with and/or support their client base in various aspects of a solution, rather than carrying a product to resell. The primary difference between a B2B affiliate and a reseller is that the latter not only promotes a brand and finds a customer, but also actually completes the transaction. Affiliates, on the other hand, tend focus on promoting a brand and finding prospect buyers rather than completing a transaction. However, in many cases a partner may be both – an affiliate as well as a transacting partner. There are a handful of companies today providing partner management software that can manage both affiliates and transacting partners. ZINFI is a leader in both areas. Given this context, if you are thinking about automating your onboarding workflows, you should take some time to think through what you need from your partner management software. To make your onboarding highly personalized and adaptable, here are the capabilities you'll need from your partner management software:
Groups and Profiles – You must be able to create access rights to your partner portal based on whether the partner is an affiliate, a reseller or both. Your groups and profiles capabilities will need to address partners' specialization, which countries they are coming from, their medallion status or their status in a point-based system. Unless you have partner management software that allows you to manage groups and profiles in a highly granular way, you will not be able to adequately manage a mixed channel environment with both resellers and affiliates.
Programs – We have noted in other articles that onboarding programs may vary greatly based on who you are onboarding and how you are onboarding. If you are onboarding an existing partner into a new program, then you have one set of workflows, which may be shorter and focused, but if you are onboarding a new partner into the company, then your onboarding program needs to be quite comprehensive. Your partner management software must be able to provide the tools to set up, deploy and retire various programs quickly and efficiently.
Tracks – Programs are overall pathways or tracks for your partners to travel through, such as filling out a registration form, getting approval to access certain content, completing a business plan, getting trained on a product or on marketing, or learning the steps involved in deal registration or referral registration. However, your affiliate partner organizations may have a variety of tracks – say, marketing, sales and technical support – that aren't appropriate for everyone to go through. That's why your partner management software must provide individual tracks and be able to automate the assignment of tracks to specific users.
Point Scoring –Jay McBain, the Chief Analyst of Channels at Canalys, has recently noted a trend in which leading companies like Microsoft are rapidly moving from medallion status to a point-based activity management system for tracking partner progress. Therefore, your partner management software should be able to distinguish tracks by function and activities under broader programs, and as partners or partner reps complete those tracks, the software should be able to automatically calculate and allocate points and instantly indicate partner status changes based on those points.
Business Analytics – You cannot have an effective onboarding system if it doesn't tell you what happens when users are onboarded. The purpose of engagement with affiliate partners or reseller partners is to either generate leads or drive sales or both. Therefore, it is essential to tie the program back to groups and profiles of partners to track efficiency – i.e., to see how specific individuals and programs are performing. This is the Holy Grail of partner ecosystem management: having the intelligence to know what's working and what's not. Your partner management system must enable you with dynamic analytics that gives you this information.
I hope this article lays out a logical approach to onboarding your affiliate marketing partner using state-of-the-art partner management software. While there are many more things your partner management software needs to do – such as tracking the efficiency of promotions, allowing partners to publish and track promotional content, providing commissions for generating referrals and associated analytics – we will discuss those functions in other articles. If you are interested in learning more, please give us a call.