ZINFI Releases Best Practices Guide on Unified Channel Management Automation Based on Multiple Worldwide Enterprise Deployments
ZINFI's Unified Channel Management platform is used for worldwide channel management automation processes for enterprises. Over the years ZINFI has amassed a wealth of knowledge around what works and what doesn't. This book on Unified Channel Management presents 25 articles covering the entire partner lifecycle management process for enterprises selling through the channel.
Pleasanton, CA – October 19, 2016 – ZINFI Technologies, Inc., a company leading the definition and creation of Unified Channel Management (UCM) solutions, today announced the publication of its best practices book on Unified Channel Management. This book presents end-to-end channel management automation principles for midsize to large enterprises that are trying to bring their channel management infrastructure into the 21st century.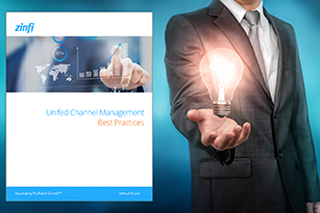 "We have been fortunate to have nearly one hundred deployments of our Unified Channel Management automation platform across the world for midsize to large enterprises," said Sugata Sanyal, founder and CEO of ZINFI. "Working with our customers globally, we have been able to capture a set of best practices for partner recruitment, engagement, enablement and management. By adopting these methodologies and principles, companies selling through the channel can significantly increase efficiency, reduce operating costs and automate profitable growth. Our vision is to guide customers in the implementation of three focused solution sets: partner relationship management, channel marketing management and channel sales management. This book covers multiple best practices for each of these core areas in channel management automation."
ZINFI is among the select group of companies that Forrester recently invited to participate in its 2016 Forrester Wave™ evaluation of partner relationship management platform vendors. According to the report, "ZINFI's PRM solution is particularly strong in some of the foundational elements of PRM, specifically its robust support for partner taxonomy/typing and partner tier management." The report adds that "ZINFI is extending the definition of PRM – its solution portfolio extends beyond PRM."
For more information about channel management automation and ZINFI's Unified Channel Management Platform, please visit our website at www.zinfi.com. To download a copy of our best practices guide, click here.